First Love
Our readers share the moment they were first ensnared.
This marks the first of our surveys of Listen readers, taken with the goal of seeking out and sharing stories about classical music.
Listen sent a survey asking enthusiastic listeners to share the piece of music that "hooked" them on classical music. We received more than one thousand stories. I read them all, and have shared some of my favorites here. Far and away the top response to our query was Beethoven's Fifth Symphony, which I suppose speaks to the power of a well-developed idea. We also received a pickle-barrelful of stories about The Lone Ranger, the radio show (and subsequent television show) that featured, among other works, Rossini's William Tell Overture. "Leonard Bernstein was right (again!)," noted Don O'Connor of Kreamer, Pennsylvania. "Overtures are a great gateway into serious music, as their length is easier for beginners to absorb." Several listeners reminded us that the old 78s were breakable. And we heard from a lot of Texans and Australians, which confirms my theory that Texans and Australians like to tell stories. My thanks to everyone who took the time to write in; your stories were a pleasure to read. —Ed.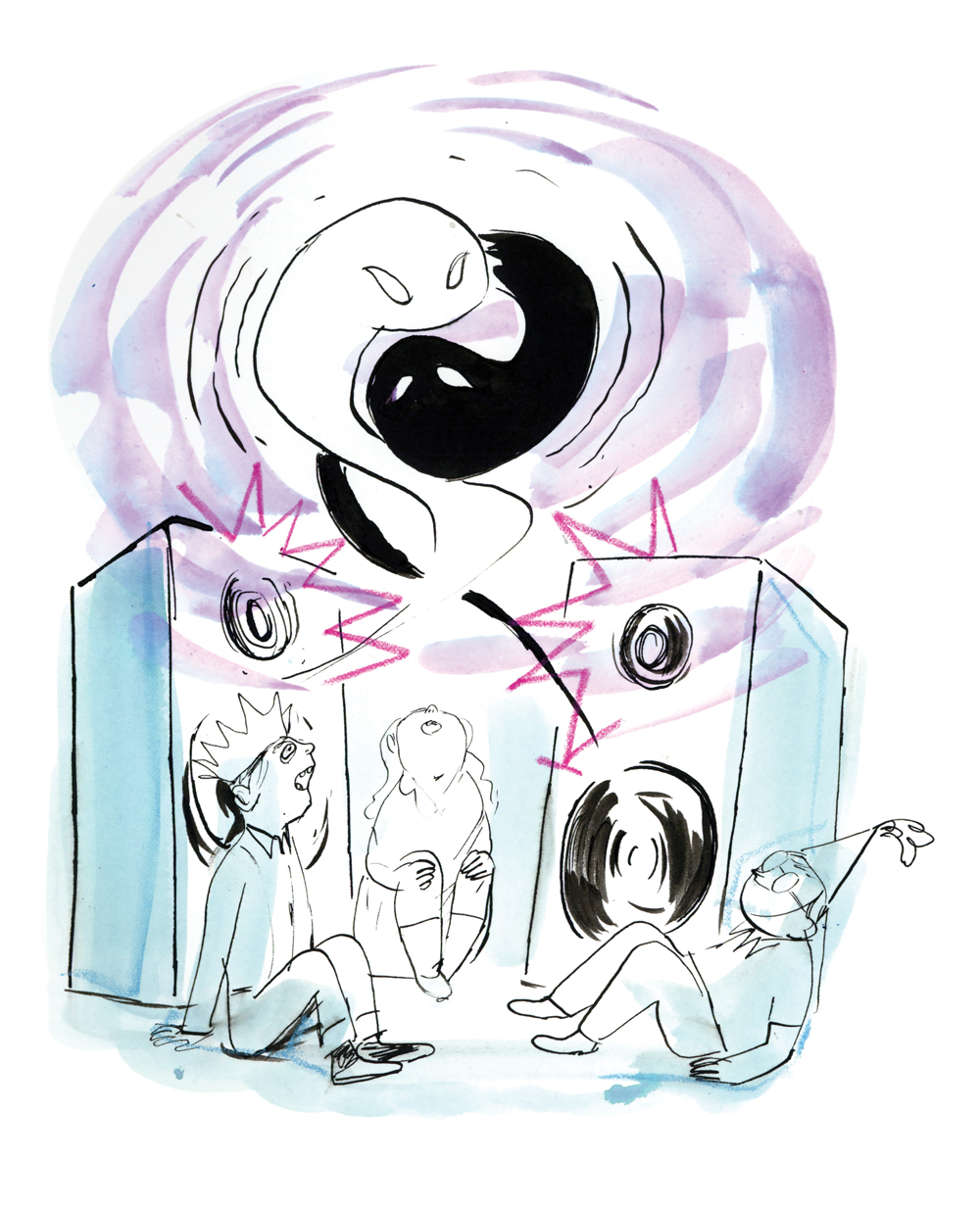 A New Year's tradition
As a child, every year at close to midnight of the New Year our Uncle Michael brought us all together in front of an old and fascinating Grundig amplifier to listen to the Beethoven Fifth Symphony with Karl Böhm and Wiener Philharmoniker. That music, so powerful and articulate, told us of the eternal struggle between good and evil and taught us that music is an eternal and universal language; and we children remained open-mouthed in front of that mystery. Now I am fifty years old, but I always experience the same charm and emotions, because music renews us and is the chief food of our soul. —Vincenzo Ieracitano, Palermo, Italy
Ludwig van Beethoven, Symphony No. 5
Vincenzo recommends: Vienna Philharmonic Karl Böhm (Deutsche Grammophon)
To touch the highest good
I became interested in orchestral music around the age of eleven. I was playing clarinet in school band and we had begun listening to the classics in school music class. The big, full, rich sound of an orchestra was exciting to me and so expressive. My home life at this time was very difficult. My parents were alcoholics and I tried very hard to be a good student and well behaved, hoping I could make things better. But as so many kids in my situation find, it's impossible to fix other people. I was frustrated but afraid to express that frustration. So Beethoven expressed it for me. Listening to that powerful music gave me strength and hope. It seemed to touch the highest good that could be found in humanity. And it inspired me to have courage in my situation and to hold up my head, no matter what. I still feel that glorious feeling whenever I listen to the Fifth. —Julia Strozyk, Portland, Oregon
Ludwig van Beethoven, Symphony No. 5
Listen recommends: Vienna Philharmonic Carlos Kleiber (Deutsche Grammphon)


A winter's drive
I had heard lots of classical music without really placing it or knowing what it was. Then one day I was driving up the Bulli Pass on a lovely sunny Australian winter's day. The FM reception was poor, but the national classical station has good reception everywhere and so I was tuned into that on the car radio. I heard this beautiful piece and I thought it sounded really American. Why I thought that I wasn't sure, but it was likely due to the swing music my brother played all the time when I was growing up as well as my familiarity with George Gershwin. So when I found out what it was (Copland's Appalachian Spring) I was quietly pleased at my powers of deduction, and that hearing led me to find out more about Copland. That led to Carter, which led to Grofé, then Bernstein, on to Piston, Schuman — and then on to everyone else in the classical pantheon! I have subsequently traveled to the U.S. many times and I really appreciate the way American composers reflect the country and its history through music that is unique, varied, brave and beautiful to listen to. —Mark Wills, Sydney, Australia
Aaron Copland, Appalachian Spring
Listen recommends: Nashville Chamber Orchestra Paul Gambill (Naxos)

Opera by housework
My mom slowly brainwashed me by starting out with musicals — then made me listen to Carmen while trapped in the house doing chores. —Susan Nolan, Woburn, Massachusetts
Georges Bizet, Carmen
Listen recommends: Elīna Garanča, et al; Metropolitan Opera Orchestra and Chorus (Deutsche Grammophon) (DVD)

Whistling Rachmaninoff
My devotion to classical music was developed by my father, who always whistled the main theme of the "Eighteenth Variation on a Theme by Paganini" by Rachmaninoff. Not exactly the tune you might expect to come from the lips of a Texas panhandle wheat farmer! He was an enormous fan of Rachmaninoff, and when I was a small child he worked as a deejay at a small AM radio station, KEYE in Perryton, Texas. Every day he hosted a rock 'n' roll show called Rockin' with Rollie. He detested rock 'n' roll, so the "theme song" that opened his show was an excerpt from Rachmaninoff's Second Piano Concerto. An unusual radio show to be sure! Like many Texans, he was extremely proud of fellow Texan Van Cliburn's historic win of the 1958 International Tchaikovsky Piano Competition in Moscow. My father owned several recordings by Van Cliburn on vinyl and reel-to-reel, and I remember that he would put big earphones on my little ears so we could listen to Van Cliburn play Rachmaninoff. Many evenings after dinner we would put our earphones on, listen and weep at the beauty of this music. He also loved opera. The little station he worked for carried the Saturday Met Opera broadcasts. We would listen to those, too.
My father died in 1999, but in my head I can still hear him whistling his favorite Rachmaninoff theme. I majored in music at Rice University and still sing and play the piano. My spouse and I cook at home so we can buy more tickets to concerts (we subscribe to the San Francisco Opera, Symphony and Chamber Music and make most Met Live in HD broadcasts) and we try to go to Santa Fe for a week each summer for more opera and chamber music. I guess a little whistling can go a long way! —Rev. Dr. Melinda V. McLain, San Francisco, California
Sergei Rachmaninoff, Rhapsody on a Theme by Paganini
Listen recommends: Earl Wild, piano Royal Philharmonic Orchestra (Chesky)

Bach in between
An uncle used to live with us. He worked during the day, attended law school at night, and somehow in between he used to play the violin. As a three-or four-year-old, I remember him pacing up and down playing. I loved hearing him play Bach's sonatas and partitas for violin solo most of all. —Dr. Judith Ronat, Israel
J.S. Bach, Complete sonatas and partitas for solo violin
Listen recommends: Gidon Kremer (ECM)

High art, low art
This is absolutely true. When I was in college back in the sixties, a friend and I decided to go see an adult film, which happened to be about a nun who, shall we say, strayed. The background music was, among other pieces, Clair de lune, which I had never heard. The music rather than the film mesmerized me, and the very next day I bought an LP of it plus a few other recordings that looked interesting. That started my lifelong love of classical music. —Eric J., New Haven, Connecticut
Claude Debussy, Clair de lune
Listen recommends: Leon Fleisher Two Hands (Vanguard Classics)

Adventures in high fidelity
I was taking an electronics course in high school around 1959 and our teacher was lecturing on audio; specifically, he was talking about distortion, noise and how they were related to high fidelity. These were all new concepts to me at the time. The Felix Slatkin recording was a bit of a sonic breakthrough. I was awestruck at the clarity of the recording and also the commentary by Deems Taylor on the technical aspects of it. This experience solidified my everlasting love for classical music and audio reproduction. Thank you, Brother Bernadine (my electronics teacher). —Jim Buckley, Milford, Connecticut
Pyotr Ilyich, Tchaikovsky "1812" Overture
Jim recommends: Hollywood Bowl Symphony Orchestra Felix Slatkin (EMI Seraphim)

Tantrum and recovery
One afternoon in the summer of 1959, shortly after my thirteenth birthday, I had an argument with my father — as adolescent boys do. After the shouting match I retired to my bedroom in a petulant, sulky mood. Disinclined to read, I switched on the radio just in time to hear the announcer tell me I was about to hear a performance of Mozart's Symphony No. 39 in E-flat. Five years of piano lessons had acquainted me with some of Mozart's music, but hadn't fired my interest. During the following half hour, that changed. The slow introduction matched my ugly mood. The first movement calmed me and made me smile. The second movement led me through a maze of sound; I couldn't see the direction but I loved where it was going. The third movement taught me what magic a master composer can evoke from a clarinet. And the finale stirred me and made me want to run around the fields with sheer exuberance. After that exhilarating coda I went back downstairs with my mood transformed beyond recognition. Shortly afterwards I went to a series of evening classes in music appreciation. Over time, my appreciation and love of our Western classical tradition grew and deepened, and now I really don't think I could live without a regular input of music; I'd probably still exist, but I wouldn't live. —Mark Henderson, Glossop, Derbyshire, United Kingdom
W.A. Mozart, Symphony No. 39 in E-flat major
Listen recommends: Staatskapelle Dresden Colin Davis (Philips)

Chopin on the road
My parents had the record and it led me to ask for piano lessons. I studied music through two years of college. I haven't played in years, but classical music sustains me in my life and profession as a long-distance trucker. —John Hanan, Enid, Oklahoma
Van Cliburn, piano, My Favorite Chopin (RCA)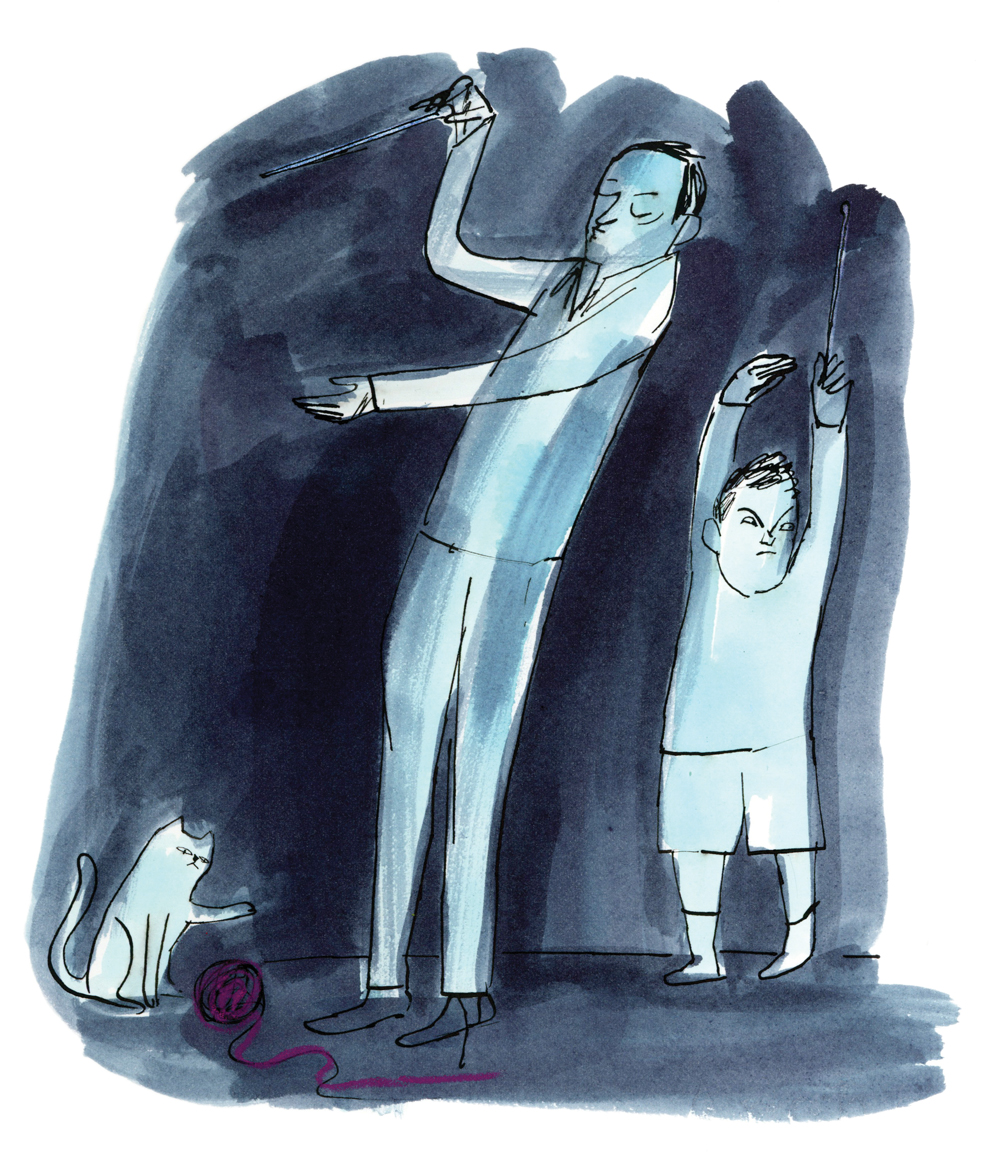 Conducting in the dark
I was still a child when my dad, who loved classical music, introduced me to Brahms's Double Concerto. We would sit in a darkened living room, each with a pair of knitting needles, and we would "conduct" the orchestra. That was the beginning of my love affair with classical music, which has spanned seven decades. —Andre A., Guelph, Canada
Johannes Brahms, Double Concerto
Listen recommends: Leipzig Gewandhaus Orchestra Riccardo Chailly (Deutsche Grammophon)

A birthday diversion
I was a young boy. It was my birthday. I turned on the television and happened to see Glenn Gould playing Bach. The party started, but I slipped away to watch and listen to the performance. —Anthony Scelba, Woodland Park, New Jersey
J.S. Bach, The Well-Tempered Clavier
Anthony recommends: Glenn Gould (Sony)

Valkyries in space
My mother took me to the Morrison Planetarium in Golden Gate Park, San Francisco, when I was a small boy. They told the story of the Valkyrie maidens and played the piece as the stars in the planetarium rolled across the ceiling. I was immediately hooked and have been now for sixty years. —Darrell Schrick, South Jordan, Utah
Richard Wagner, Ride of the Valkyries
Listen recommends: Orchestral Excerpts from Wagner Operas London Philharmonic Orchestra Klaus Tennstedt (LPO)

Opera & dessert
I am eighty-six, so I don't remember. Probably something by Tchaikovsky, because of his beautiful melodies. Or Rhapsody in Blue or Grand Canyon Suite, heard a lot in those days.
I would rather tell a little different story, which might be an interesting idea for others. My wife and I live in rural Wisconsin, where there is not much access to the classical arts. About two years ago we invited three people over to our house for an "Opera and Dessert Night." We showed the Netrebko/Villazon La Traviata DVD [(Deutsche Grammophon)] from Salzburg and it was a big hit. We are now doing this as a monthly music and social event. We stop in the middle and have dessert and conversation. Wine and popcorn are served earlier.
We have now shown seventeen operas or galas. We have an e-mail list of about fifteen people and an average attendance of about seven to nine, all that our space can accommodate. Others are now offering to bring dessert, and people are making some new friendships. We really look forward to our Opera Nights and it is fun for us to watch them with others. I always do a little research on the opera, the composer, et cetera, and make a little introduction before we start. My e-mail reminders include clips taken from YouTube or elsewhere. —Bob Starr, Buffalo City, Wisconsin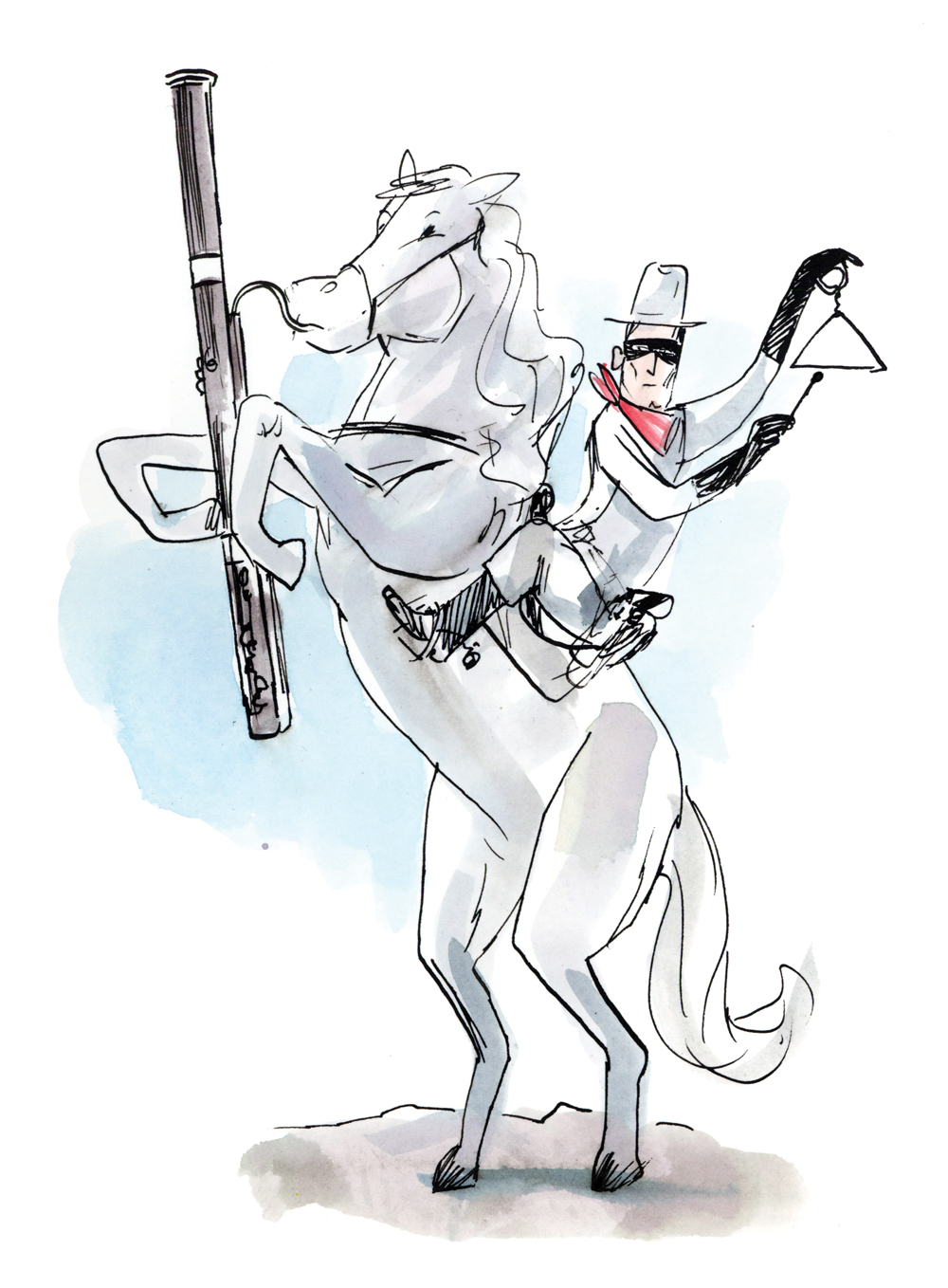 'Hi-yo, Silver!'
As a child of the forties and fifties, I grew up with the Lone Ranger long before I even knew what classical music was all about. When I was in the sixth grade, our class went to Constitution Hall for a young persons' concert, although I had no idea what we were doing there. I remember as clear as if it were yesterday sitting in the loge drifting off to sleep while the third part of the overture was being played. I believe Howard Mitchell was the conductor who let the music descend into inaudibility and then brought down the baton to those famous trumpets. The hall went wild. We screamed, hollered and generally brought down the house grabbing our programs, wondering "Who was that masked man?" —A Lifelong Music Lover, Alaska
The background music to the radio program The Lone Ranger featured (as I recall) excerpts of works by Rossini (William Tell Overture), Liszt (Les préludes), Schubert (Rosamunde), Mendelssohn (Fingal's Cave), Řezníček (Donna Diana Overture) and Bizet (Symphony in C). I suspect that thousands of other children growing up in the forties and fifties had a similar epiphany. —Kenneth Laurence, Peabody, Massachusetts
Giacomo Rossini, William Tell Overture
Listen recommends: Chicago Symphony Orchestra Fritz Reiner (RCA)
As a young child I heard the portion of the William Tell Overture that was used as the theme music for The Lone Ranger and soon learned that this portion was part of something larger. Before long, my sense of that which made up the "something larger" grew to enormous proportions. —Peter C. Hall, Sea Bright, New Jersey

The classical music featured in The Lone Ranger was used because the program's owner, George W. Trendle, was too tight to hire a live group of musicians or an organist. Who knows whether or not I would love classical music if Mr. Trendle hadn't been so cheap? —Ken Greenwood, Grand Rapids, Michigan
The producers of The Lone Ranger were apparently committed to exposing young listeners to classical music; the list of pieces they used is a long one — I can remember at least twenty-five different compositions myself, but an online search shows evidence of almost a hundred different works that were quoted at least briefly as background music at one time or another. I have long felt strongly that that radio program was a powerful influence on me and all my friends; we used to run up and down our street "playing guns" and singing snatches of Les préludes and the Hebrides Overture as we assaulted each other. —Dr. Bill Wieting, York Harbor, Maine
…
The Dirty Dozen
The top responses to our survey, along with Listen's suggested recordings
1. Beethoven, Symphony No. 5
Vienna Philharmonic/Carlos Kleiber (Deutsche Grammophon)
2. Rossini, William Tell Overture
Chicago Symphony Orchestra/Fritz Reiner (RCA)
3. Tchaikovsky, Nutcracker Suite
Royal Concertgebouw Orchestra/Antal Doráti (Philips)
4. Rimsky-Korsakov, Scheherazade
Royal Concertgebouw Orchestra/Kondrashin (Philips)
5. Beethoven, Symphony No. 9
North German Radio Symphony Orchestra/Günter Wand (RCA)
6. Tchaikovsky, Piano Concerto No. 1
Van Cliburn/RCA Symphony Orchestra (RCA)
7. Prokofiev, Peter and the Wolf
Philadelphia Orchestra/Eugene Ormandy (Sony)
8. Tchaikovsky, "1812" Overture
New York Philharmonic/Leonard Bernstein (Sony)
9. Dvořák, "New World" Symphony
New York Philharmonic/Leonard Bernstein (Sony)
10. Bizet, Carmen
Elīna Garanča, et al; Metropolitan Opera Orchestra and Chorus (Deutsche Grammophon) (DVD)
11. Stravinsky, Rite of Spring
Cleveland Orchestra/Riccardo Chailly (Decca)
12. Grieg, Peer Gynt Suite
Malmö Symphony Orchestra and Chamber Choir/Bjarte Engeset (Naxos)
…

A top twenty-five of Bowie beyond the hits

By Bradley Bambarger

Read More

A cellist shares his favorite recordings — and one of his own.
By Eric Jacobsen

Read More