Verdi & Wagner Together at Last
The polar opposites share a bicentennial —and perhaps more than we think.
By Colin Eatock
Verdi and Wagner — if opera houses were allowed to mint trillion-dollar coins, they'd stamp one composer on one side and the other on the reverse. And it would be a toss-up as to who was heads and who was tails. ¶ In life and art, they were like two sides of the same coin: opposites, yet joined by a common era. Indeed, they both came into this world in 1813, making the current year their shared bicentennial. And given the classical music world's fondness for celebrating big anniversaries, 2013 will be a banner year for both of them. Opera houses have carefully planned their seasons to take full advantage of the occasion.
In 2013 the Metropolitan Opera is remounting Robert Lepage's production of Wagner's Ring cycle — and there are cycles in Vienna and several major German houses. Even more Rings can be found in Milan, Paris, Dijon, Palermo, Sofia, Seattle and Melbourne. And of course, it will be a big year at Wagner ground zero, Bayreuth, with the curtain rising on a brand-new Ring production.
Verdi doesn't really have a ground zero — that's not his style. But Verdi-heavy stagioni will be presented by opera companies in Milan, Verona, Berlin, Munich, London, Moscow, Budapest and other cities. Mixed in with all the Rigolettos, Trovatores and Traviatas are some rarities: stagings of Oberto, I due Foscari and Un giorno di regno. And throughout the year there will be more Verdi Requiems than you can shake a stick at.
The two composers responsible for this flurry of activity were born just months apart: Wilhelm Richard Wagner on May 22, 1813, and Giuseppe Fortunino Francesco Verdi on October 10. Curiously, neither was born into an especially musical household: Wagner was the son of a clerk in a police station, and the Verdi family kept an inn. Today they would be described as lower middle class.
Neither could be termed a child prodigy, but both were notably talented. They pursued their studies privately and rose through the ranks of the musical world to become chorus masters and conductors of local orchestras. Both also had their official debuts as opera composers in their twenties: Wagner's Das Liebesverbot received a single performance in Magdeburg in 1836 and Verdi's Oberto was premiered at Milan's La Scala three years later. By the time the composers were thirty, they had a lot in common.
…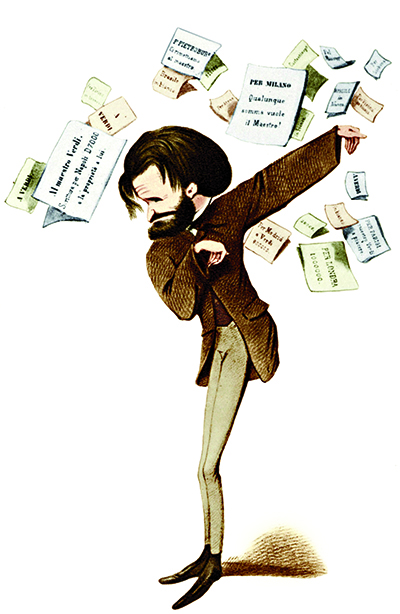 Giuseppe Verdi
politically liberal • had the love of his nation • rough-hewn and unaffected • good businessman • amassed a small fortune • from the sunny South • nice guy
…

Yet despite these similarities in age and upbringing, a gulf has emerged between them, made wide by forces of history, politics and aesthetics. Their glorious heyday was, for many, the era of Verdi versus Wagner — as if they were wrestlers in a cage match, the victor claiming the prize of operatic domination.
Unfortunately, Verdi and Wagner contributed to this perception through their total lack of collegiality. All their lives, each behaved as though he wanted nothing to do with the other. They never met, and there's no record of any correspondence between them. Indeed, in their letters, diaries and other personal documents, they hardly mention each other.
Similarly, not much is known of their interest in each other's performances. We do know that Verdi heard Lohengrin in Bologna and thought it both loud and lugubrious. (He never went near Bayreuth; it would have made him look like just another of Wagner's "pilgrims.") In her diary, Cosima Wagner mentions attending a performance of Verdi's Requiem with her husband — dryly adding that it would be best to say nothing about it.
How are we to take this display of standoffishness? Did they really give each other little thought? Or were their opinions carefully suppressed, even in their private communications? Whatever they thought, they were content to let others speak.
The conductor Hans von Bülow — for whom Wagner was a god — dismissed Verdi's Requiem as "an opera in ecclesiastical robes." And the Verdi-loving conductor Arturo Toscanini took aim at Wagner: "If the lovers in Tristan und Isolde had been Italian," he remarked, "by the end of the second act they would already have seven children. But they're Germans, so they're still talking."
Verdi and Wagner were rivals — but theirs was not the rivalry of politicians, eager to debate, denounce and defeat. They were more like two fine restaurants specializing in different cuisines, located across the street from each other. Not really wishing to be compared, Verdi and Wagner preferred the world to think they were incomparable. And if comparisons were absolutely necessary, it would have pleased them to be viewed as opposites.
This idea has worked its way deeply into the culture. Even before their music is compared, the men themselves seem bursting with irreconcilable differences. With the passage of time, these qualities have been conflated into overfamiliar generalities. It's not hard to draw up a ledger with Verdi one side and Wagner on the other.
Verdi was politically liberal; Wagner embraced a dark, protofascist philosophy. Verdi received the love of his nation and the world beyond; Wagner attracted a cultish circle of devoted acolytes. Verdi had a rough-hewn and unaffected disposition; Wagner was rarefied and self-invented. Verdi was a good businessman who amassed a small fortune; Wagner relied on aristocratic patronage and handled money poorly. Verdi was from the sunny South; Wagner from the cold North. Verdi was a nice guy; Wagner was not.
And when we turn from their personalities to their art, we find more points of apparent opposition. Verdi worked brilliantly within the inherited conventions of opera, putting his distinctive stamp on the art form; Wagner exploded those conventions and looked to the future. Verdi penetrated deeply into the human soul to create his characters; Wagner was drawn to mythology and filled his works with archetypes that transcended humanity. Verdi wrote music that is direct and trenchant; Wagner cultivated a broad and expansive style. Verdi viewed opera as, first and foremost, a vocal art; Wagner sought a union of all arts in his work and took a symphonic approach to composing for the stage.
To be sure, these are valid points. But to say as much and nothing more is to rest content with clichés and half-truths. There's much more to the Verdi–Wagner relationship than mutual contrariness and difference. And what better time than 2013 to explore some of their shared qualities, experiences and values? The opportunity is ripe for a fresh perspective — to lay to rest the simplistic idea that Verdi and Wagner were from different planets.
Even though they never met, their paths crossed — literally and figuratively — throughout their careers. Verdi's travels outside his native Italy took him first to Vienna, in 1843, for a production of his Nabucco, followed by trips to London, Paris, St. Petersburg and other European cities. Similarly, Wagner's journeys crisscrossed the European continent: He spent time in Riga, Dresden, Zurich, London, Paris and Venice, among other places. As cosmopolitan men, their ambitions were international in scope. They were products of and contributors to a burgeoning pan-European culture.
History remembers them as nationalists, however, whose chief concerns focused tightly on their homelands. Both were born in countries that didn't yet exist (so to speak). In 1813 the words "Italy" and "Germany" were geographic rather than political terms — and these geographic regions were chopped into small kingdoms and principalities, many ruled by foreign powers. Verdi and Wagner played deliberate and active roles in shaping the cultural identities of their emerging nations.
For Verdi, forging a unified Italy ruled by Italians was an urgent necessity, and he eagerly sought to participate in unification and independence efforts. He turned his art into an instrument of the cause, filling his operas with thinly disguised Italian patriots. The Hebrews of Nabucco singing "Va, pensiero" spring to mind — but also the Lombard soldiers in La battaglia di Legnano and the rebellious peasantry of I vespri siciliani. Even the Flemish deputies in Don Carlos can be read as stand-ins for the Italian people and their aspirations.
It's no wonder that the cry of "Viva Verdi" became a coded political slogan. It was, of course, a clever acronym for Vittorio Emanuele re d'Italia ("Victor Emanuel, king of Italy," who in 1861 became the united country's first monarch) — but it showed that Italians identified the composer with their nation.
For Wagner, the quest for a new, unified Germany was more complex. As he saw it, his nation struggled more with itself than with foreign forces. And his political views were a mishmash of right- and left-wing ideas that has no modern equivalent: part Tea Party, part Occupy movement. Politically, the most concrete thing he ever did was to participate in the 1849 uprising in Dresden, building bombs for the revolutionaries. When the insurrection failed, he fled across the border to Switzerland.
Like Verdi, Wagner made his art a vehicle for unified national identity. In Die Meistersinger von Nürnberg, Hans Sachs famously sings about "holy German art." And Wagner's frequent recourse to Germanic legend and mythology — in such works as Tannhäuser, Lohengrin and, of course, the Ring cycle — made his operas into celebrations of the Germanism that Sachs so admires.
Verdi and Wagner lived to see their imagined nations become reality, when the unification of Italy was completed in 1870 and the German Empire was established the following year. Neither composer was entirely satisfied with the outcome of events: Verdi had hoped for a republican form of government in Italy rather than a kingdom, and the utopian Wagner was inevitably disappointed with the new Germany. Yet both found themselves on the winning side of history, benefiting from their close association with struggles for nationhood. In this, they were alike: two sides of the same coin.
Yet even if their operas and characters can be identified with the striving of their nations, an equally strong case can be made for the pan-European origins of their works. As artists, Verdi and Wagner laid claim to a whole continent as their cultural patrimony.
…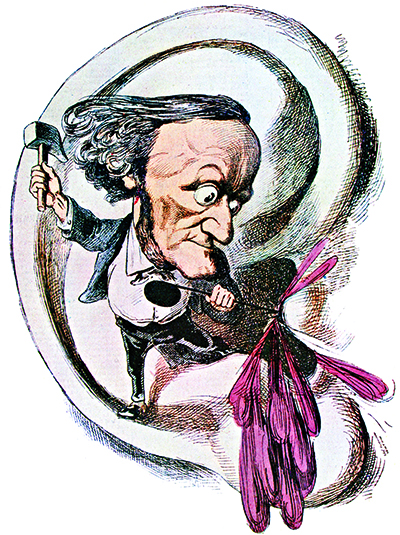 Richard Wagner
embraced dark philosophy • attracted a cultish circle • rarefied and self-invented • relied on patronage • handled money poorly • from the cold North • not a nice guy
…

Wagner's Tristan und Isolde springs from a Celtic myth, the legend of The Flying Dutchman is likely English in origin, and his early opera Rienzi is based on a novel by Edward Bulwer-Lytton.
Verdi was even more of a magpie, taking whatever suited his fancy, wherever he found it. His admiration of Shakespeare produced Macbeth, Otello and Falstaff. Un ballo in maschera is loosely based on a historical event in Sweden. And when he was afraid that the French wouldn't like the plot of I Lombardi alla prima crociata, he happily reworked it as Jérusalem for the Paris Opéra.
But what about their music? Isn't it obvious that one was a musical revolutionary while the other built on a rich tradition?
Nobody would deny that Wagner was a great innovator. He wrote his own librettos. He devised the leitmotif and filled his scores with complex chromatic ideas and structures. His "endless melody" replaced the traditional recitative-and-aria model of opera. He called for a big orchestra — even inventing a new instrument called the Wagner tuba — and then put his musicians out of view, in a pit under the stage. He had a new theater built to showcase his operas, and dimmed the lights to focus the audience's attention on the action. And when his vision exceeded the limits of a single opera, he wrote four and joined them together.
It's easy to get carried away listing Wagner's achievements — and to forget that he was indebted to other composers for some of them. Many of his harmonic innovations paralleled the explorations of his father-in-law, Franz Liszt. (It's a matter of scholarly debate which one first took up the "Tristan" chord.) Wagner's leitmotif is closely related to Hector Berlioz's idée fixe. Berlioz and Wagner also shared a penchant for working on an expanded scale, writing for big orchestras — and Berlioz composed his five-hour opera Les Troyens several years before Wagner wrote Meistersinger.
Although Wagner wasn't heir to a well-developed national operatic culture the way Verdi was, he admired some of the work of his German predecessors, such as Weber's Der Freischütz and Beethoven's Fidelio. It may please Wagner's admirers to think of their hero as sui generis, springing from nowhere — but he was, inevitably, bound up with the zeitgeist.
It was Verdi who famously said, "Let us return to the past — that will be progress!" And yet he transformed many of the traditions he embraced. Over the course of his career, Verdi developed the "great guitar" style of orchestration into a more sophisticated musical vocabulary. (Think of the storm scene in Otello.) And although Verdi respected the bel canto tradition, he exerted a new authority over his singers. He wrote out his cadenzas and expected his singers to abide by them, come scritto.
While Verdi never attempted to be his own librettist, he played a strong role in the shaping of his texts, purging them of unnecessary detail and sharpening their dramatic intent to a fine point. And he anticipated the verismo movement by transforming Dumas' novel La Dame aux Camélias into La traviata — an opera set in contemporary times and intended to be a critique of the era's social values. (For the premiere production, in Venice in 1853, the management of La Fenice insisted on staging the opera in the 1700s. But later productions reflected Verdi's intentions.)
In short, Wagner and Verdi looked both backward and forward. Each in his own way absorbed traditions and took his art in new directions.
If they chose to do all they did while pointedly avoiding each other, that was their prerogative. But their choice to maintain a distance is no reason for people in the twenty-first century to view them as contrary artistic forces. Perhaps the world can best celebrate the two-hundredth birthdays of Verdi and Wagner by putting to rest the divisive idea that admiring one somehow demands a rejection of the other.


His compatriots made institutions of their music. William Schuman made institutions.
By Russell Platt

Read More

Respighi's set of variations is cast away for his more
'Roman' repertoire.
By David Hurwitz

Read More

The beautiful stoicism of Brahms's Nänie defies absolute categories.
By Thomas May

Read More