L'Amico Fritz
Mascagni delivers beautiful music, libretto be damned.
By Robert Levine
After Pietro Mascagni punched the operatic world in the face with his brutal, single-act Cavalleria Rusticana in 1890, he became an instant sensation, the type of "overnight success" that an artist dreams of. After being expelled from the Milan Conservatory in his second year in 1885 he had supported himself by playing double bass, teaching piano and conducting operettas with a small company. Indeed, he was unsympathetically referred to in a Neapolitan newspaper as a "bandmaster." But in 1889 he entered a contest held by the Sonzogno publishing house and won with Cavalleria, creating a one-man revolution in Italian opera that ushered in the Verismo movement. Verismo is practically synonymous with overkill — overkill in volume, fervor, quick and frenzied musical numbers, violent moodswings and passion; the outcome is invariably murder or suicide. Understatement has no place in the formula. Six months after its premiere, Mahler conducted Cavalleria in Budapest, and within three years it was one of the world's most popular operas. "I was crowned before I was king," Mascagni would later say.
Based on a short story and play by Giovanni Verga, much of the critical and popular credit for Cavalleria's success was given to its brutal story. Stung, Mascagni decided to compose a work that would be judged solely on its musical value, and indeed, the libretto he chose is about as bland as humanly possible. He wanted, as he explained to his publisher, a "simple libretto where the action is tenuous and inconsistent." Verdi called it "silly, action-less and characterless." But as James Clutton, producer of London's prestigious Opera Holland Park, recently told me after a successful run of performances, "Yes, the plot is thin, but I don't agree with Verdi's sentiments. I believe 'L'amico Fritz' to be unbelievably underrated as an opera."
L'ami Fritz was an 1864 French comic novel by Emile Erckmann and Alexandre Chatrian that was adapted for the stage in 1872. Mascagni's opera opened to great acclaim in Rome in October of 1891; at the first performance, several numbers were encored and the curtain calls went on at length. Within a year it was popular all over Europe, with Gustav Mahler leading the Hamburg premiere in 1892. Both he and Eduard Hanslick, the critic who was the bane of Wagner's existence, thought that the musical language in Fritz was more advanced and sophisticated than that of Cavalleria. And though the Musical Times reported at the opera's 1893 premiere at Covent Garden that "all London did not rush to see [Mascagni], the house being half empty when he stepped into the conductor's seat," the paper went on to say that the opera was nevertheless warmly received. And so it has been. When it is presented, which is not frequently, it is loved.
The idyllic setting is a small village in Alsace. Fritz is a wealthy, landowning over-thirty-five-year-old. It is his birthday and he is sitting with friends, celebrating. Enter young, pretty Suzel, daughter of Fritz's steward, bearing flowers for Fritz. His friend, the Rabbi David, is a strong believer in matrimony and thinks Suzel should marry, but Fritz says she is too young. Fritz announces his own lack of interest in marriage but David bets him that he will be married within a year. The second act finds Suzel in the garden picking cherries; Fritz joins her in a duet. David and some friends arrive, and Fritz and Suzel discuss the story of Abraham, Isaac and the taking of a wife. David realizes that Suzel loves Fritz and, to make Fritz jealous, tells him that he will look for a husband for Suzel. Alone, Fritz realizes that he loves Suzel; he panics and takes a waiting carriage into town. Suzel discovers him gone and bursts into tears. The third act finds Fritz's love in full bloom. David tells him he has found a husband for Suzel and that they need Fritz's approval since he is the feudal lord. He refuses. Suzel enters and sings of her unhappiness — her father wants her to marry a stranger — and Fritz finally declares his love for her. All rejoice in the power of love. (Note the merry relationship between Protestants and Jews; after 1933 Rabbi David suddenly became a wise neighbor. The Fascist Mascagni had no problem with such an alteration.)
And so: If Mascagni wanted to prove that a libretto did not a great opera make, he proved it. Whereas Cavalleria's success is rooted in concise, brutal action, here we are picking cherries and discussing the Bible. This is to say nothing of the presence of a gypsy violinist named Beppe (a trouser role, no less) who shows up on occasion to supply, well, gypsy violin music. Cavalleria has characters who do everything wrong, so the conclusion, inevitably, is shattering. Fritz is full of gentle, awakening emotions and sensible discussions aiming towards a mellow May–December marriage.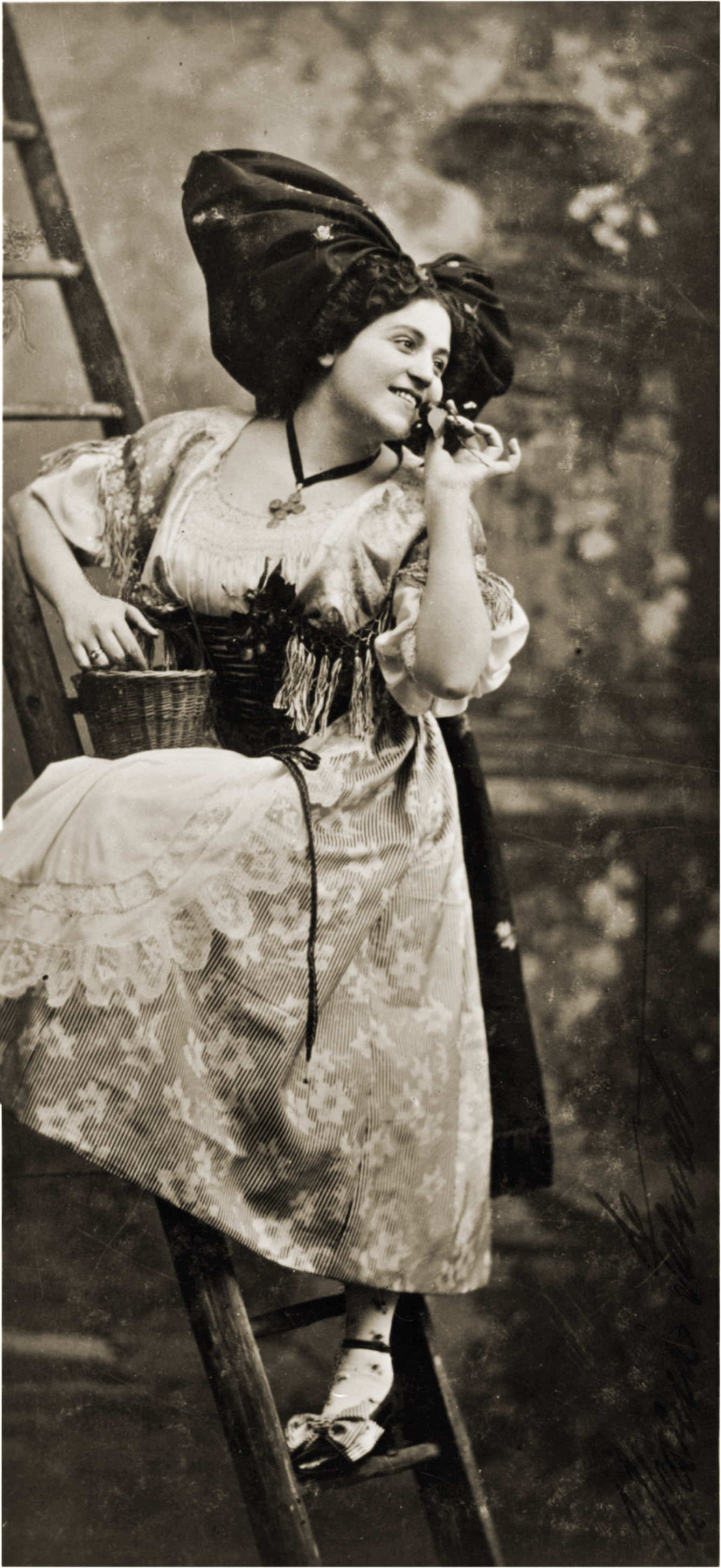 Che bella! Mascagni's L'amico Fritz with Italian soprano Maria Farneti as Suzel in 1905
...

But it works because it contains Mascagni's most beautiful music. Though scored for full orchestra, the brass and percussion are rarely and judiciously applied. As insipid as the character of Beppe is, his violin music is, in fact, pretty. Strings and winds — flutes, a lovely, plaintive oboe — are highlighted. There is a chorus, but it never appears on stage; it is used as a type of Alsatian ambience, singing softly about love, wafting in on a breeze.
The entire opera seems to be made up of pastels; it is almost fragrant. The short opening "Preludietta" is odd and for winds alone, yet it enchants. The offering of violets in the first act by Suzel in the aria "Son pochi fiori" is gentle and melodic in the extreme, with the strings taking up the tune in its final, brief moments. And Beppe's off-stage violin solo and arietta, though supposedly Alsatian, seem straight from the hills around Naples or somewhere in Sicily, with their lyrics about poor children and the redemptive power of love. The overriding kindness and placidity is broken up by lively discussions among Fritz and his pals and one brief pip of an argument between Fritz and David near the close of Act Two. The first act ends with a lively off-stage march.
The gorgeous second act begins with Suzel at the cherry tree; flutes and oboes accompany her recitative. Her little song, "Bel cavaliere," about a knight who has no wife, rises in half-tones for each of its four tiny verses, as if she, herself, is becoming aware that the knight she sings about is, in fact, Fritz. The Cherry Duet, in which she is joined by Fritz, is, like "Bel cavaliere," an exercise in chromatic writing meant to intrigue rather than disturb: it lasts for about eight minutes and is the longest set piece in the opera. It never rises above forte and is mostly sung at an intimate piano. A perky scene with the arrival of friends follows, and then comes Suzel and David's discussion of Isaac and Rebecca. David and Fritz have their spat and Fritz's brief but rhapsodic "Quale strano turbamento," in which he wonders about his strange feelings, is a fervent, puzzled declaration of love. The act ends with Suzel crying softly.
A handsome orchestral prelude that quotes the theme of Beppe's violin solo opens the last act. Fritz's rueful outpouring is not as strong as it should be and Beppe's little song is superfluous, but Fritz's "O amore, o bella luce del core" showcases the tenor voice beautifully and is warmly conceived. The Fritz/David and David/Suzel scenes have charm but reiterate what we already know about our lovers' feelings, and Suzel's confession to Fritz that she does not love the man her father wants her to marry has the requisite sincerity. Their duet, however, is stunning (and recalls Suzel's opening aria) and leads directly into a final hymn to love from the entire cast.
The opera is only ninety minutes long — twenty more than Cavalleria Rusticana — and one can keep arguing about how little actually happens, but to do so would miss the point. The harmonies and melodies are far more advanced than those in Cavalleria; in fact, they can be seen as almost too sophisticated for the subject. The characters are well-drawn, imparting a real sense of Suzel's unqualified innocence, Fritz's arrogance and eventual capitulation, and David's utter sensibleness. The exquisitely lyrical soprano part requires a range up to high C, and the tenor role a similarly high tessitura; both also require an innate ability to sing softly as well as in full voice. The only sin L'amico Fritz commits is that it isn't interested in and doesn't work as high drama — but not every opera must or should. The three available recordings, with three different generations of superb tenors in the title role — Ferruccio Tagliavini, Luciano Pavarotti and Roberto Alagna, respectively — are all worthy, but Pavarotti's partner, Mirella Freni, swings the balance in that recording's favor. (It was, incidentally, Pavarotti's first recording.) Pia Tassinari is a lovely partner for Tagliavini, but Angela Gheorghiu somehow lacks the simplicity required for Suzel.
In a letter to his publisher, Mascagni wrote, "Fritz gives me hope.... What fresh and simple music flows from my heart in these moments! Sometimes I fear that this music of mine is too simple, too ingenuous! What will the critics and the know-it-alls say? But so what? That's just the way I think and write. My music is for people of good heart." Clutton has a final thought: "What the piece strikes at for me is one of the most central moments in anyone's life: falling in love. Especially for men who have struggled with the 'commitment thing' — though the opera may seem to be simple — its profound truth at its center makes it timeless." 

Photos: © Banque d'Images, ADAGP / Art Resource, Lebrecht Music & Arts
Finding solace in the sound of authentic sorrow
By Rev. Jake Bohstedt Morrill

Read More

New chamber orchestras are popping up all over America.
By Colin Eatock

Read More

The birth of Christmas in medieval England
By David Vernier

Read More