Sibelius Celebration
Happy 150th Birthday, Jean Sibelius
By Bradley Bambarger
The symphonies and tone poems of Jean Sibelius uncannily evoke the Nordic landscape of his native Finland: its vast forests, glinting lakes and icy mists mirrored in sound. His compositions also suggest an inner landscape of complexity, even contradiction; isolation and darkness are there, as well as life-affirming radiance. Nature and modernity were competing, and ultimately complementary, ideals for Sibelius. Steeped in Finnish epics and modal folk melodies yet driven by a visionary conception of symphonic form, the products of his imagination feel singular even now, one hundred fifty years after the composer's birth.
No composer so embodies a country's national identity like Sibelius does that of Finland. Ruled variously by Sweden and Russia over the years, Finland gained independence in 1917, the rise coinciding with his artistic maturity. Such early Sibelius works as the choral symphony Kullervo and tone poem Finlandia had encapsulated the country's identity and aspirations like little else. Finland's resultant pride in his achievement would lead to a tradition of education that has produced more great composers (Einojuhani Rautavaara, Aulis Sallinen, Kalevi Aho, Kaija Saariaho, Magnus Lindberg, Esa-Pekka Salonen) and conductors (Leif Segerstam, Okko Kamu, Osmo Vänskä, Jukka-Pekka Saraste, Sakari Oramo, Hannu Lintu and Salonen among them) than might seem possible for the most sparsely populated country in Europe.
Sibelius's series of seven numbered symphonies and his Violin Concerto — music that morphs nineteenth-century Romanticism into a very individual take on early twentieth-century modernism — earned him international celebrity. The Finn's stature grew remarkably high in the United Kingdom and the United States, his works finding such influential advocates during his lifetime as Sir Thomas Beecham and Serge Koussevitzky. Sibelius said that creating the themes for his most magical work, his Symphony No. 5, was like a divine rush: "God opened his door for a moment and his orchestra was playing the Fifth Symphony." But that spirit wouldn't always move him. Although he lived until 1957, to age ninety-one, Sibelius was silent creatively for his last three decades; a mooted Eighth Symphony never appeared, the door shut.
The sesquicentennial of Sibelius's birth in December 2015 has brought such welcome releases as a Naxos series from Segerstam and Finland's Turku Philharmonic that focuses on the composer's most rarely heard music, including the complete ballet Scaramouche and his score for the play Jedermann (Everyman). But the big haul for the anniversary comes in the form of eight boxed sets.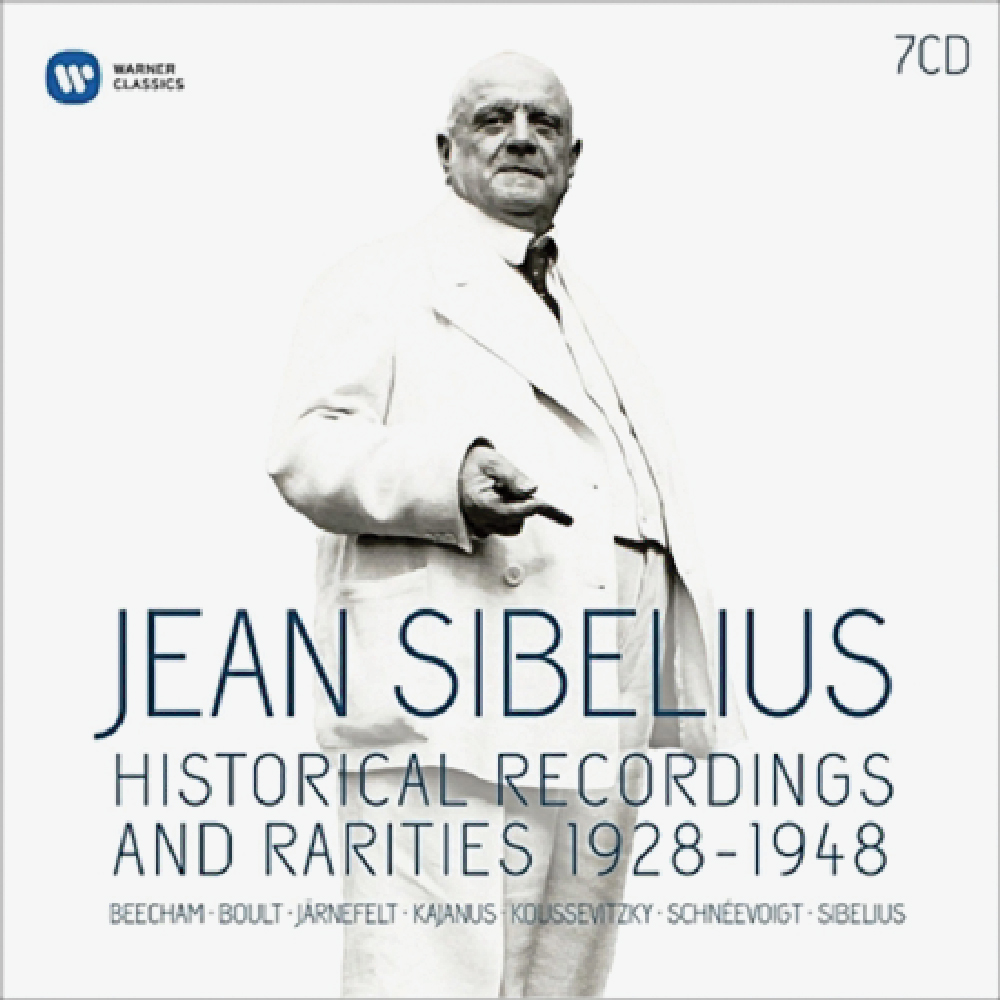 Sibelius Edition: Historical Recordings & Rarities, 1928-48
Robert Kajanus, Thomas Beecham, Adrian Boult, Jascha Heifetz, Budapest String Quartet, London Symphony Orchestra, London Philharmonic, Helsinki Philharmonic, Finnish Radio Orchestra, et al. (Warner Classics)
Plundering the capacious EMI catalog, this enterprising seven-CD boxed set collects recordings made over the two decades from 1928 to 1948, when the composer himself could judge their success. Central here are symphonies and tone poems as waxed in England by Robert Kajanus, founder of the Helsinki Philharmonic and a youthful drinking buddy of Sibelius, who insisted that EMI hire the conductor to record his works. (The two of them can be seen ruminating alongside each other — three sheets to the wind — in an evocative painting, The Symposium, by Akseli Gallen-Kallela.) The set also includes tone poems, theatrical suites and Fourth Symphony led by Beecham, as well as Heifetz's icily expert Violin Concerto and, with Andante Festivo, the only record of Sibelius conducting his own music. The audio is old, EMI's restoration valiant.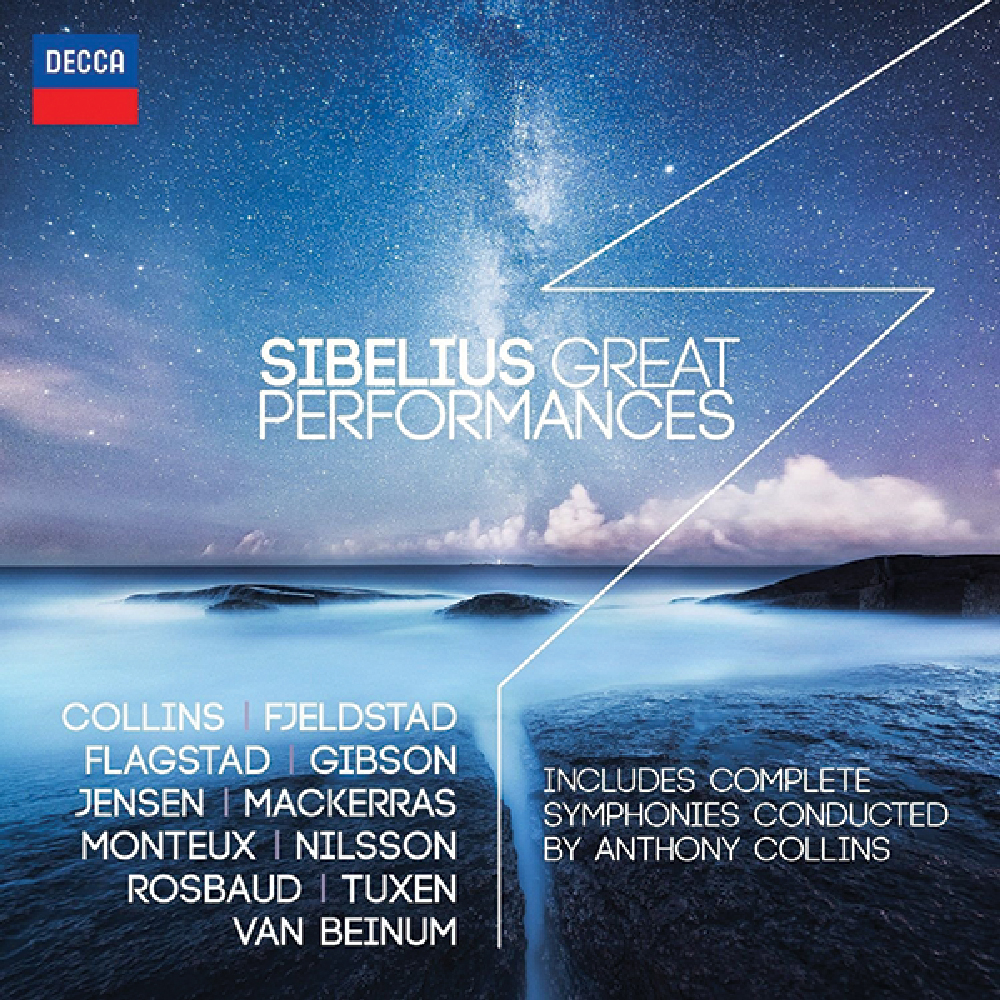 Sibelius: Great Performances
Anthony Collins, Pierre Monteux, Eduard Van Beinum, Hans Rosbaud, Thomas Jensen, Ruggiero Ricci, Kristen Flagstad, Birgit Nilsson
Griller Quartet, London Symphony Orchestra, Berlin Philharmonic, et al. (Decca)
Picking up the baton from EMI, Decca was the vital postwar champion of the composer's music. The British label recorded the first integral cycle of the symphonies, in the early 1950s with the LSO under Anthony Collins. This eleven-CD set revolves around that series, though there is much more. Among the most exciting inclusions are the orchestral songs with Kristen Flagstad and, thrillingly, Birgit Nilsson, as well as an especially exciting Second Symphony from 1959 with Pierre Monteux and the LSO. Also here: modernist Hans Rosbaud's pioneering Sibelius tone poems with the Berlin Philharmonic, including the darkly lyrical Swan of Tuonela. Multiple versions of several pieces make for fascinating listening. For fans of vinyl, Decca has also reissued the Collins/LSO symphonies in a lovely boxed set of six 180-gram LPs, remastered anew from the original mono tapes.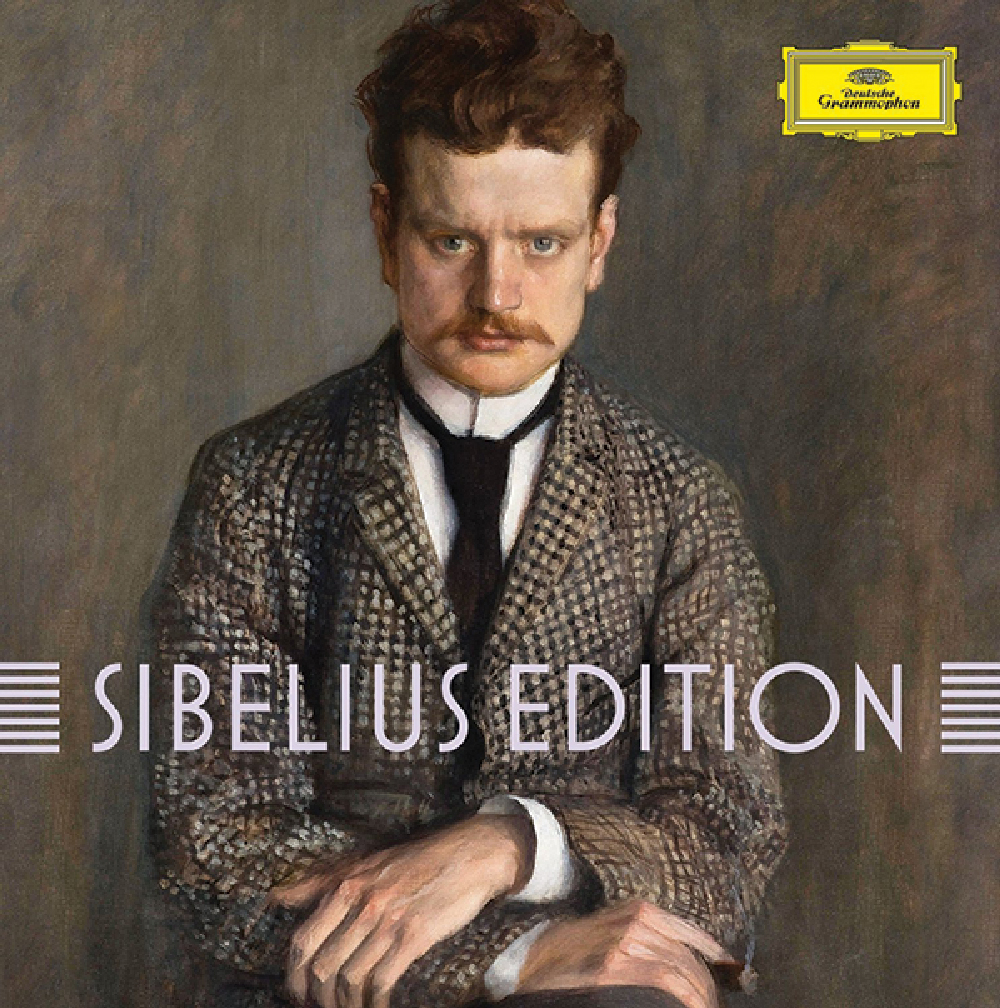 Sibelius Edition
Leonard Bernstein, Herbert von Karajan, Neeme Järvi, Anne-Sophie Mutter, Kim Borg, Soile Isokoski
Emerson String Quartet, Vienna Philharmonic, Berlin Philharmonic,
Helsinki Radio Symphony, et al.
(Deutsche Grammophon)
If the Warner and Decca editions are for connoisseurs, Sibelius neophytes have a gift in this expertly curated fourteen-CD cornucopia of premium Deutsche Grammophon recordings. Although Leonard Bernstein took far longer over Symphonies Nos. 1 and 2 with the Vienna Philharmonic than he did a decade earlier in New York — timings are distended at first glance — the unflagging energy and sheer muscularity make these performances unique. Karajan's Symphonies Nos. 4, 5, 6 and 7 are not only as beautifully played as any; they are also deeply affecting. More greatness: Anne-Sophie Mutter's infectiously virtuoso account of the Violin Concerto and the Emerson String Quartet in the composer's only string quartet ("Voces Intimae"), as well as one of the best renditions of Luonnotar (a dramatic piece for voice and orchestra akin to Brahms' Alto Rhapsody), by Finnish soprano Soile Isokoski. A grand bargain.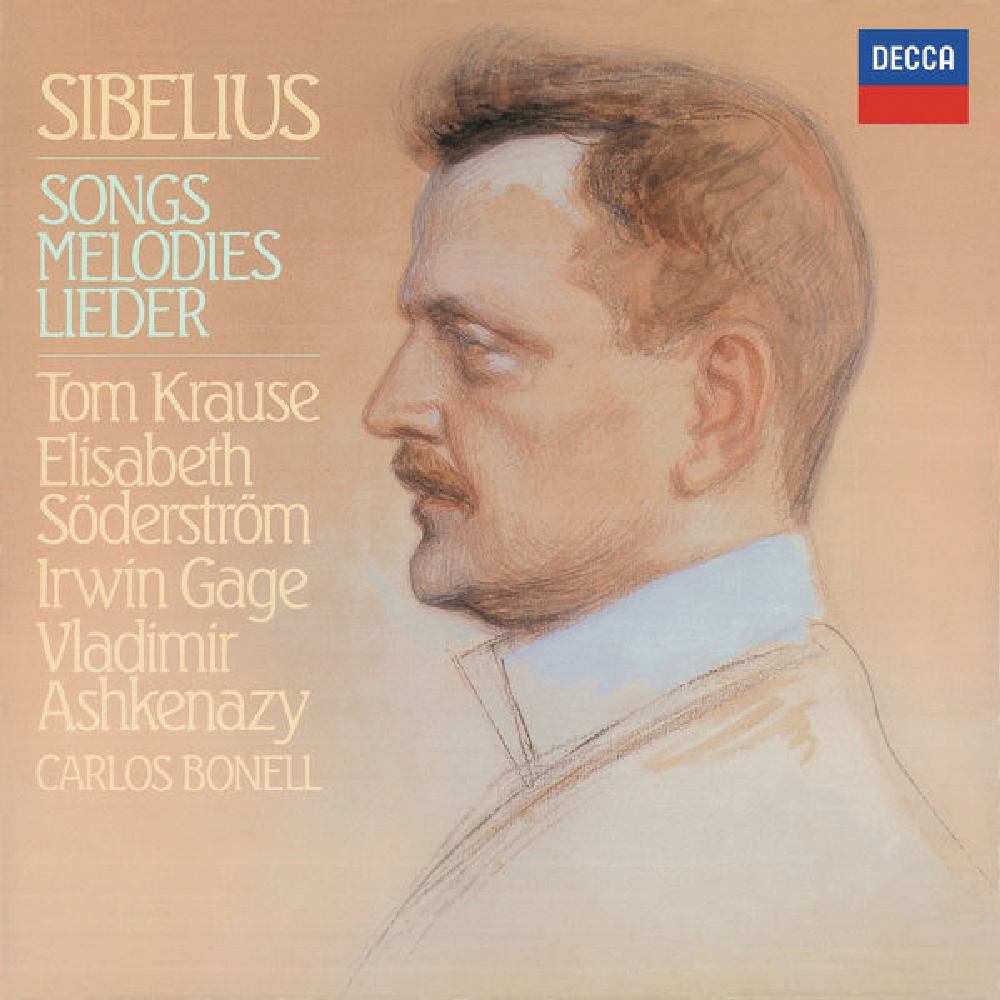 Sibelius: Songs Edition
Elisabeth Söderström, soprano
Tom Krause, baritone
Vladimir Ashkenazy and Irwin Gage, pianos (Decca)
Beyond his orchestral pieces, the key corpus of works by Sibelius comprised his songs — nearly a hundred of them, the bulk written in the span of a decade and a half. He composed most of them to Swedish texts, having grown up speaking that language at a time when Finnish was still rarely taught in schools. This four-CD set features all of the composer's songs with piano — not as dramatic as the orchestral songs but still essential for the full Sibelius experience. Swedish soprano Elisabeth Söderström sings such melancholy highlights as "Since Then I Have Stopped Asking," accompanied by pianist Vladimir Ashkenazy (also a conductor who knows his Sibelius). Sonorous Finnish baritone Tom Krause, paired with Irwin Gage, sings the darkly philosophical likes of "On a Veranda by the Sea."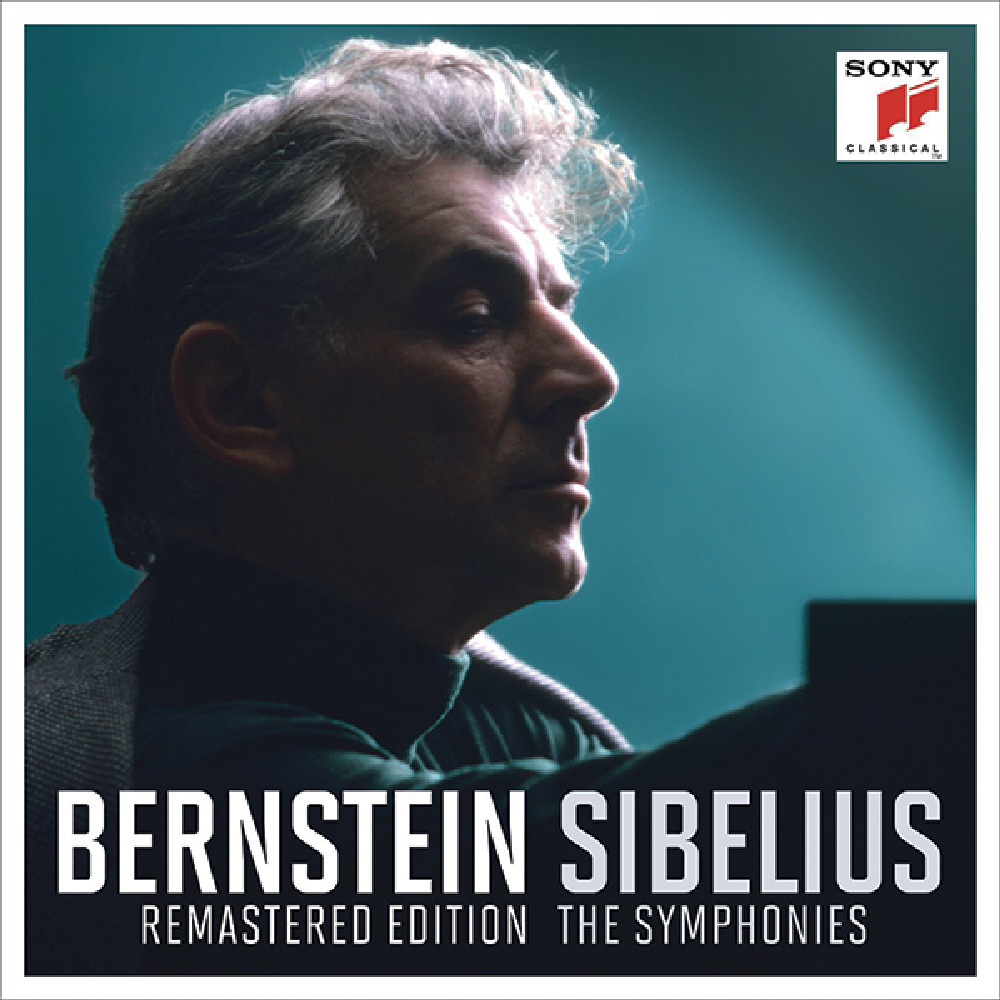 Sibelius: Remastered Edition — The Symphonies
Symphonies Nos. 1–7, Violin Concerto, Luonnotar, Pohjola's Daughter, etc.
Phyllis Curtain, soprano,
Zino Francescatti, violin
New York Philharmonic
Leonard Bernstein, conductor
(Sony Classical)
Leonard Bernstein and the New York Philharmonic were the first to record a complete Sibelius symphonies cycle in stereo. Columbia's recorded sound — mostly captured at the challenging venue of the just-built Lincoln Center — was never the best of the time, being a bit fierce; but the original analog tapes have finally been remastered in full, so that they sound warmer, fuller. Bernstein and his New Yorkers yield an especially visceral excitement from this music, particularly in the First Symphony — with its Tchaikovsky influence to the fore — and a thrilling Second; the tone poem Pohjola's Daughter also pulses with sonic drama.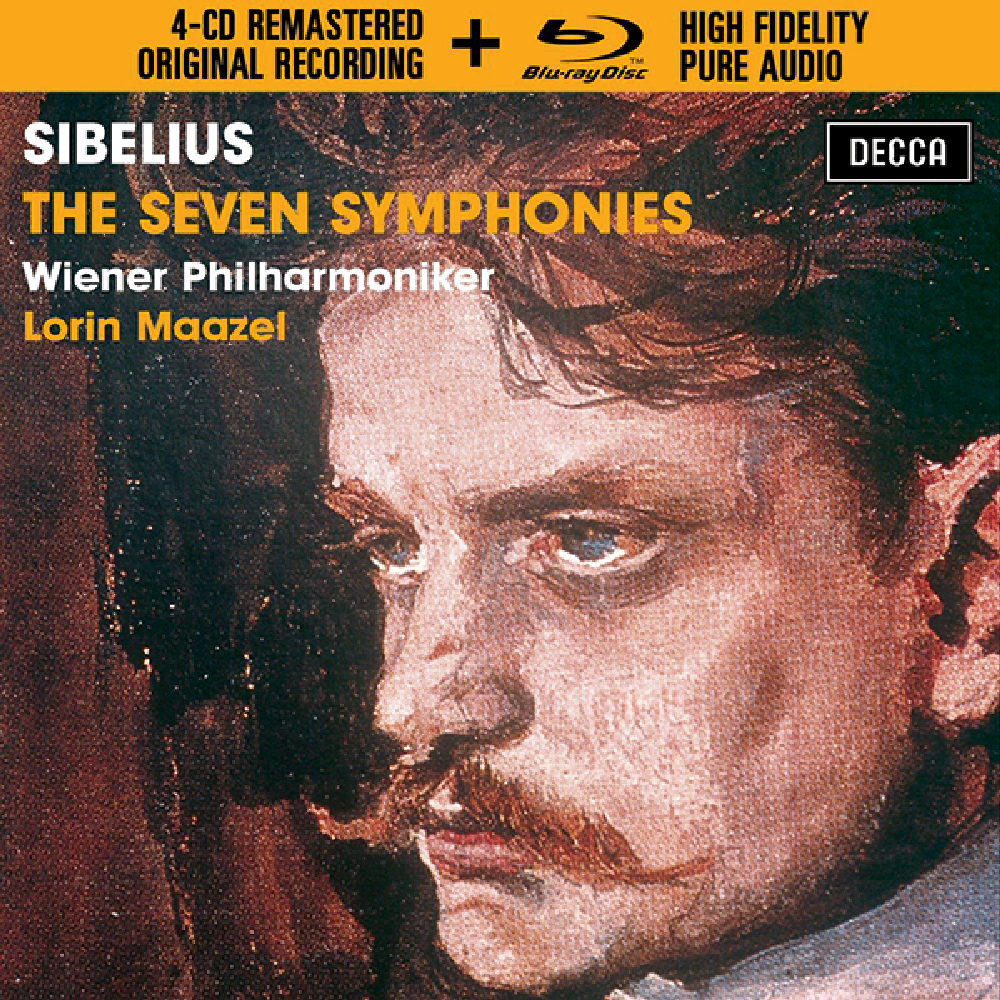 Sibelius: The Seven Symphonies
Symphonies Nos. 1–7, Karelia Suite, Tapiola, Vienna Philharmonic
Lorin Maazel, conductor (Decca)
The most marvelously played and recorded complete cycle of the LP era was Decca's set by the Vienna Philharmonic under Lorin Maazel. The full cycle of seven symphonies — plus the Karelia Suite and profound final tone poem Tapiola — has finally been remastered to maximize Decca's vintage analog sound on four CDs, as well as on a high-resolution, high-capacity Blu-ray audio disc. The brooding Fourth Symphony has rarely been conveyed with such depth and sweep; the pine forests and cold lakes come alive in the mind, but so do dark shadows. The Seventh resounds magnificently, the textures swirling, the melodies glowing. As with many of these anniversary sets, the extensive booklet annotation is by august Sibelius scholar-critic Robert Layton.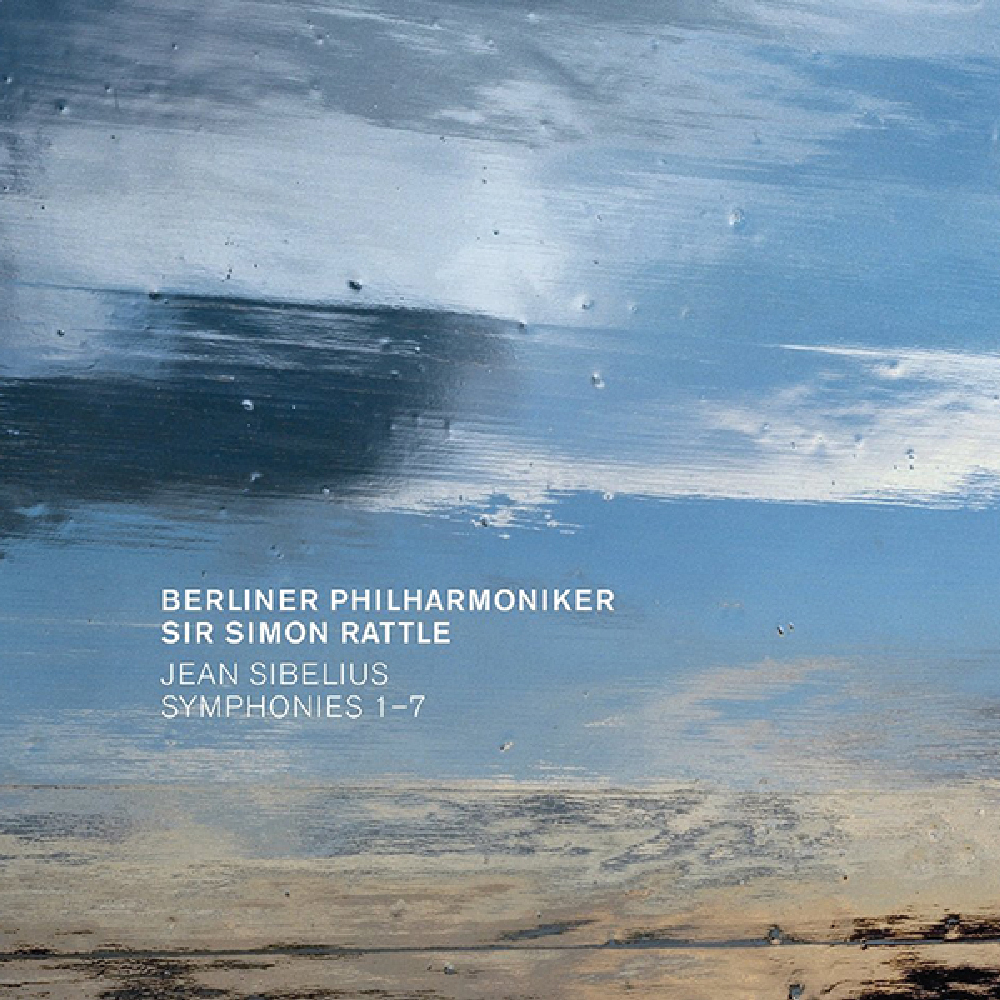 Sibelius: Symphonies Nos. 1–7
Berlin Philharmonic
Simon Rattle, conductor
(Berlin Phil Media)
The most deluxe offering of the Sibelius anniversary comes from Simon Rattle and the Berlin Philharmonic, with this set presenting the seven symphonies on four CDs and on a Blu-ray audio disc, with a Blu-ray video disc including both live performances and documentaries; there is even a card for a studio-master audio download. The booklet is as deluxe as the audio presentation. As for the playing, the Berliners sound as mighty as one would expect — the double-basses in the Fourth Symphony seem to well up from the middle of the Earth. Even if the Fifth disappoints, with the phrasing exaggerated and under-characterized by turns, this set's resplendent sonic detail rewards repeat listening.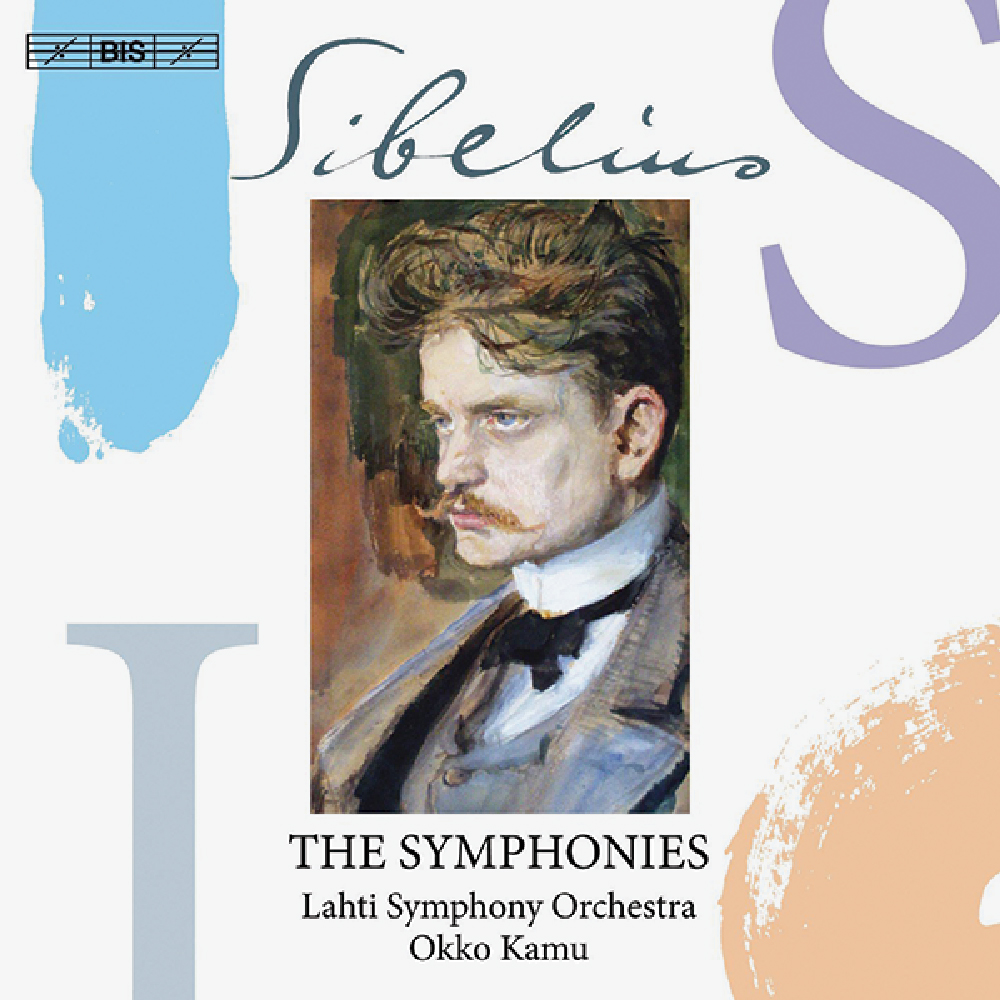 Sibelius: The Symphonies
Symphonies Nos. 1–7
Lahti Symphony Orchestra
Okko Kamu, conductor
(BIS)
The most significant edition of Sibelius orchestral works in the CD era was not by a big-name ensemble and star conductor but by Finland's Lahti Symphony Orchestra under Osmo Vänskä, who made his name with that 1990s edition. Lahti's next music director, the Sibelius veteran Okko Kamu, has recorded the seven symphonies with the orchestra to cap his own tenure with the group. The results are ideally balanced and dynamically expressive, with the characteristic BIS sound both rich and transparent on SACD. Most vital, Kamu makes sure the phrasing has a rare sense of inevitability, to emotive effect in the Fifth Symphony. Conductor and orchestra do the music full justice, this set an apt 150th birthday present for the great Finn.

His compatriots made institutions of their music. William Schuman made institutions.
By Russell Platt

Read More

Pianist András Schiff revisits The Well-Tempered Clavier and other totems of J.S. Bach — on stage and on record.
By Bradley Bambarger

Read More

Finding solace in the sound of authentic sorrow
By Rev. Jake Bohstedt Morrill

Read More