A Simple Love Story
It's no accident that Puccini's La bohème remains the most performed opera.
By Robert Levine
Opera lovers and critics alike often argue over which opera is the "greatest." Is it Mozart's Don Giovanni? Verdi's Otello? Wagner's Tristan und Isolde? You can't really lose if you pick any of them.
But there's a chance that if you discuss which is the most lovable, charming and approachable opera, after a moment's thought, the opinions will fall in one direction: Giacomo Puccini's La bohème. An opera without villains, its characters are regular people and easy to relate to. Its melodies are profuse and easy to recall, but there's nothing trite about any of them, and each is suited to the situation. There is no pageantry for its own sake; the opera is lean and tells a good story. Soprano Aleksandra Kurzak, who sang Musetta in the 2006 Hamburg State Opera production and sings Musetta's aria ("Quando m'en vo") on her new compilation, Gioia! (Decca), tells Listen: "It's a simple love story, full of melodies you can sing at home. Love stories in opera and movies — this is something that is happening in our lives, and that is why it is easy to understand."
Soprano Anna Netrebko, who sang Mimì in the 2010 Metropolitan Opera production, concurs. "People are drawn in by Puccini's emotionally charged music," she says. "And the story is fairly realistic by operatic standards, which I think helps people to relate to it on a personal level."
Written in 1896, La bohème is based on the 1849 Henri Murger novel (later turned into a play) Scènes de la vie de bohème, a complex series of individual vignettes about people incorrectly referred to by the French as "Bohemians." The name comes from the vibrant and probably romanticized lifestyle of gypsy-like people from Central Europe; it stands as a metaphor for young, carefree, invariably poor artistic types, rebels against society who live for art. Puccini and his librettists, Luigi Illica and Giuseppe Giacosa, chose four of the scènes and added tidbits from Puccini's own overworked and poor student days, creating most of the situations in the second and third acts; perhaps that is why the opera has such a ring of truth to it.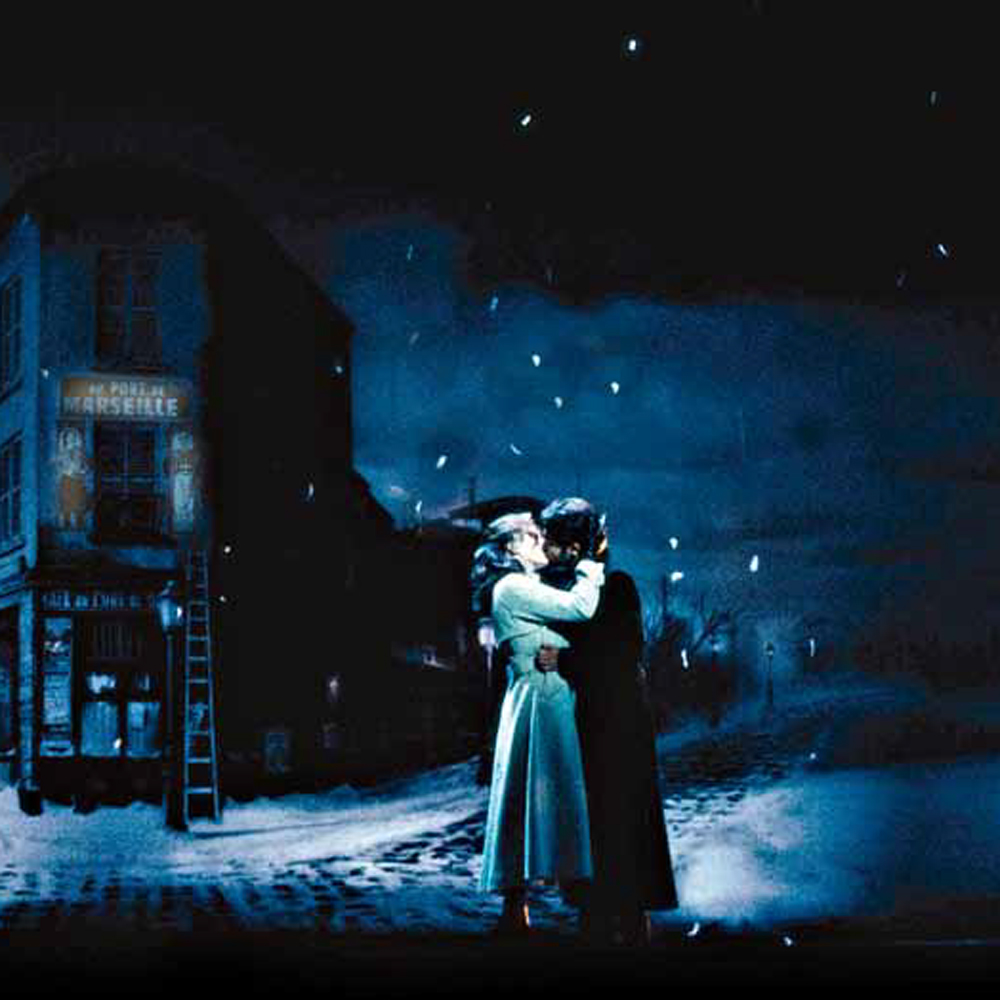 The plot can be synopsized in just a few sentences: Four struggling artistic types live together in a garret in Paris. The poet Rodolfo meets the tubercular seamstress Mimì accidentally and both fall instantly in love; meanwhile Rodolfo's friend, the painter Marcello, reunites with his flighty singer–girlfriend, Musetta, during Christmas Eve at a Parisian café. The couples break up over jealousy or fear but all get back together when Musetta finds the terminally-ill Mimì and brings her back to the garret moments before her death. Puccini has given us music of such color that each act, each interchange, each aria or duet is imbued with a feeling that transcends words. It is a masterpiece of atmospheric tone-painting — the shivering strings and clipped harp and flute tones that set Act III actually sound like the cold and snow depicted on stage. As a marriage of words and music, La bohème casts a strong spell and defines the operatic experience.
To call La bohème's subject matter "universal" is not to cheapen it: love, loss and the moment when youthful innocence evaporates are anything but trite. In 1990, in Sydney, Australia, film director Baz Luhrmann (Strictly Ballroom, Moulin Rouge) updated the opera to Paris in 1957; it was straightforward and lost nothing in the alteration. That production came to Broadway in 2003, played to sold-out houses and was nominated for seven Tony Awards.
More radical was Jonathan Larson's rock musical Rent, which opened on Broadway in 1996, was made into a film and has become a theatrical staple. It depicts a similar "bohemia" in 1990s New York City. Like their La bohème counterparts, the young, stressed artists of Rent are trying to make it in a big city under adverse circumstances. Both the 1896 and 1996 works have a pair of love stories; both show the male characters burning manuscript pages to keep their apartments warm. La bohème's Mimì begins her first aria with the words "They call me Mimì"; in Rent these words end Mimi's first song. Rent's Maureen echoes Puccini's Act II showpiece-interlude, "Musetta's Waltz," by explaining how she's always being stared at as she walks down the street (and the familiar melody of Puccini's original shows up in Rent's score). Mimì has tuberculosis, a disease that was associated, sometimes subtly, sometimes not so subtly, with a dissipated, plebeian, free-love existence — Violetta in La traviata suffers the same fate. In Rent the disease has been updated to AIDS; several characters are afflicted with it. While loss of young love to death looms over both works, Rent deals more with the politics of disease and poverty — and yet Mimi does not die at the close of Rent, as her friends rejoice. Mimì's death at the close of La bohème, by contrast, is a moment of overwhelming sadness, given to us in hushed tones.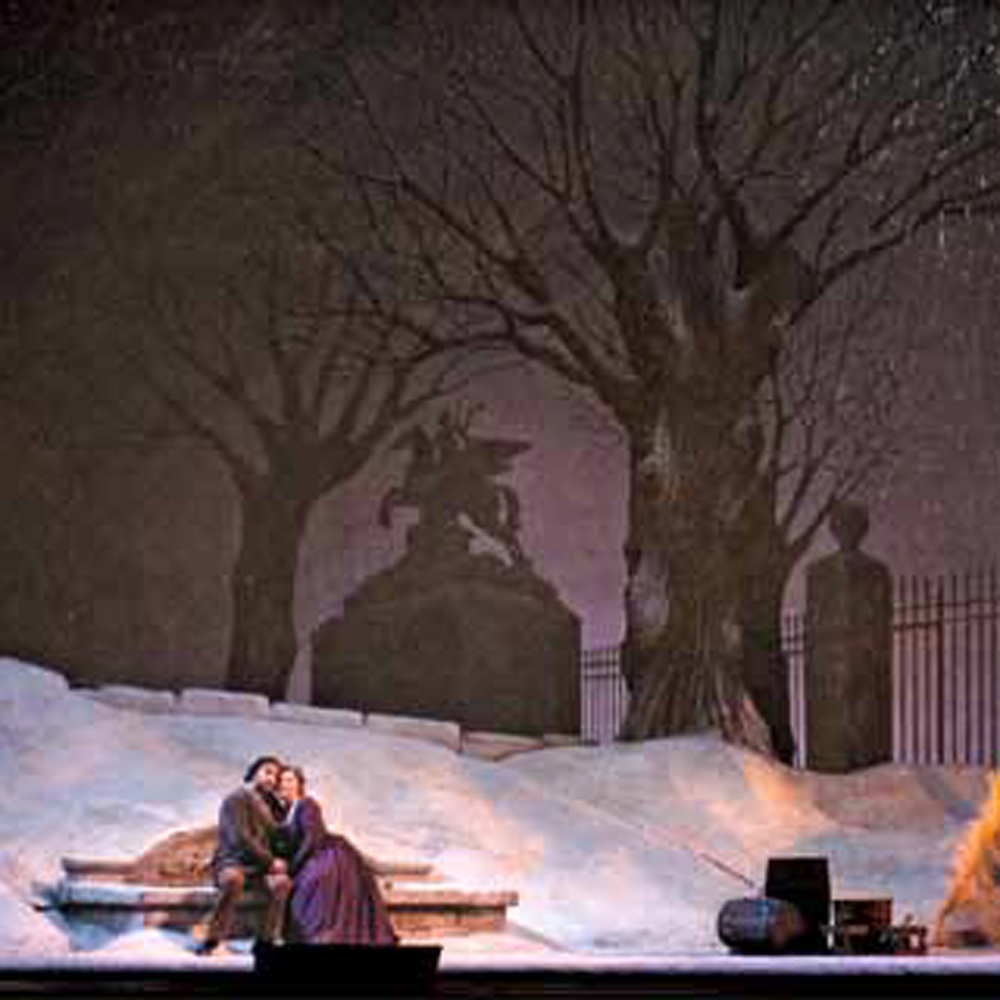 In addition to the fact that La bohème is engrossing, unpretentious and touching (while laced with humor), its appeal also stems from its open melodic and theatrical organization. Everything seems to happen in real time; the pace is balanced. Vocal delivery is simple and natural, and Puccini moves with organic grace from conversational moments to ariosos to full-blown arias and duets. Set pieces are not in "operatic" time, with many repetitions and variations, but in actual, conversational, psychological time. They invariably feel as if they are materializing straight from the dramatic situation. Of course, this structure is all based on the forms of Rossini, Donizetti and Verdi, and Puccini owes much to the Veristic style of Mascagni and Leoncavallo. But his lyrical, easygoing style is all his own, and as the opera progresses, Puccini repeats melodies — or bits of melodies slightly changed — to remind both the audience and the characters of other times: the theme of the opera, if there is one, is the passage of time and the disappearance of carefree youth. In the last half of the fourth act, Mimì and Rodolfo recall their first meeting, both literally and musically. Hearing Mimì weakly sing the first few measures of Rodolfo's gloriously ebullient first-act aria, "Che gelida manina," is a devastating experience. It's sentimental, but it effectively includes the listener: by recognizing the music, we recall the happier days of the characters, and their sadness is made all the more distressing by our familiarity with them.
If one wanted to see the opera in symphonic terms, the second act, beginning with brass fanfares and mixed chorus and ensembles — and ending the same way — would be the scherzo, a romp whose quick tempo is interrupted only by the self-conscious "Musetta's Waltz." The third act is the andante, beginning and ending with the same surprising two forte chords, as if all the action were framed or in quotation marks. It moves at a mellow, pensive pace, with one tender, introspective moment following another. Even the final, brief quartet that ends the act proceeds at a non-manic pace, Mimì and Rodolfo sadly foreseeing their farewell and playing against the vituperative yelling of Marcello and Musetta.
For home listening, bathe in the young voices of Luciano Pavarotti and Mirella Freni under Herbert von Karajan's grandly Romantic (and symphonic) leadership (Decca) or in the moving and historic 1958 Met broadcast with Licia Albanese and Carlo Bergonzi (Sony Classical). Among the DVDs, you can't go wrong with Anna Netrebko and Rolando Villazon (Kultur) or Baz Luhrmann's updated version (Image Entertainment). Any of them will move you to tears. 

Photos: Marty Sohl/Metropolitan Opera
Finding solace in the sound of authentic sorrow
By Rev. Jake Bohstedt Morrill

Read More

New chamber orchestras are popping up all over America.
By Colin Eatock

Read More

The birth of Christmas in medieval England
By David Vernier

Read More