The Two Kurts
Weill as avant-garde composer and populist
By Rebecca Schmid
Whether writing for the streets of New York or Berlin, Kurt Weill sought to connect with his audience in the here and now. "If you are a theater composer, the only way to get your work produced is if an audience can understand and appreciate it," Kim Kowalke, president of the Kurt Weill Foundation, tells Listen. And Weill's audiences could not have been more different. While The Threepenny Opera is now canonized on both sides of the Atlantic, it wasn't long ago that Americans remained largely ignorant of Weill's modernist works before his emigration to the United States, while Europeans snubbed his enormous output in American musical theater. It is only in the past few years that both the pre-exile Brechtian masterpiece Aufstieg und Fall der Stadt Mahagonny (The Rise and Fall of the City of Mahagonny) and the Broadway opera Street Scene have entered the repertoire of major opera houses on both sides of the pond.
During the time of the Weimar Republic, composers such as Weill, Hans Eisler and Paul Hindemith sought out alternatives to the isolation of esoteric art music — a process of reform that included moving away from traditional performance spaces. Kowalke believes that Weill sealed his fate well before making the trip across the Atlantic, when Der Dreigroschenoper (The Threepenny Opera) premiered to roaring success not in an opera house but at a regular theater: "The argument against Weill was that he couldn't be a good modernist if he was so commercial — but if he did sell out, it was in 1928. And he never really wanted to go back to subsidized opera houses because they were so political."
Once stateside, Weill adapted his own brand of musical theater to the Broadway idiom, laying the groundwork for the stage works of Sondheim and Bernstein. But his legacy as a young modernist remains equally important. While Arnold Schoenberg declared that art could not be art if it met with popular appeal, Weill — in a similar vein to his teacher, Ferrucio Busoni — turned to pre-Romantic ideals of clarity and simplicity, stripping down Wagnerian harmonies to their bare chromatic skeletons while assimilating everything from Bach, Mozart and Mahler to jazz and Stravinsky. And he never forgot to include a catchy melody, whether the infectious "Moon of Alabama" from Mahagonny or "Wrapped in a Ribbon and Tied in a Bow" from Street Scene.
The Austrian composer HK Gruber recalls his breakthrough after stumbling upon a recording of Mahagonny when he was twenty years old. "At the time, serial music was considered the most modern technique," he recalls. "It bothered me that institutions such as Darmstadt knew in which direction my music was supposed to go. Whatever didn't fit into their world was worthless. I realized that I wanted to do something different. And I realized that Weill and Eisler were dealing with exactly the same problem in 1924." Gruber has not only conducted and performed Weill, but has carried on his tradition with stage works such as Frankenstein!! — in which he himself appears in the cabaret tradition of chansonnier — and the satirical Gloria — A Pig Tale. Much as the American minimalists reacted to the twentieth-century avant-garde by restoring tonality, Gruber — along with his compatriots Kurt Schwertsik and Otto Zykan — embraced a more popular language, finding inspiration in the non-dogmatic, intricate and still melodic world of Weill's operas and songs.
Street Scene English National Opera / Scottish Opera at London Coliseum, 1989, with Philip Gould and Catherine Zeta Jones
The Rise And Fall Of The City Of Mahagonny English National Opera at London Coliseum, 1995
The Threepenny Opera Welsh National Opera Cardiff, 1984

A new generation of singer–songwriter–composers also shares a connection with Weill in a mission to write sophisticated music with populist appeal. My Brightest Diamond, a.k.a. singer–songwriter Shara Worden, credits a Teresa Stratas recording of the tango song "Youkali," written for Weill's Paris opera Marie Galante, for helping her bridge the gap from classical training into popular song. "There was a period where I was trying to push the range of pop music, to stretch the voice to see how far away I could get from opera while still using a high range," she recalls. "It was definitely one of those pieces where [after hearing it] you're not writing the same." At The Rest is Noise Festival in London last year, Worden performed the role of the Anna I/II in Weill's ballet chanté of his brief French exile, Die Sieben Todessünde (The Seven Deadly Sins). Worden, who reprises this role with the American Composers Orchestra next February, muses that the split protagonist may have influenced the conception of her 2013 neo-Baroque opera, You Us We All, in which Hope ends up being full of despair, and Death caring and full of belief.
Much like Anna, whose alter ego has to dance, turn tricks and commit other cardinal sins in order to earn money for her family to build a small house in Louisiana, Weill himself has two faces which history has found difficult to reconcile. While his contemporaries — Hindemith, Eisler and Brecht — would return to Germany, Weill had no problem identifying himself as an American. "I never felt the oneness with my native country that I do with the United States," he declared in 1947, three years before his death. "The moment I landed here I felt as though I'd come home." While the "American Weill" carried out a successful career on Broadway to the disdain of European intellectuals, the author of the Threepenny Opera and Berliner Requiem became a figure of nostalgia in postwar Germany. "There were the dark years where the lights went out," Weill scholar Stephen Hinton explains. "And no one really wanted to put them on. So they talked about him as a figure who had opposed the Nazis and sent out messages warning of the darkness to come."
Although Weill proclaimed to "give a damn about writing for posterity," his collaborations with Brecht were eerily prescient about the catastrophe to come. "There will be no trial. Rather your brother is dead, and dead is the stone under him," reads the fifth song of the Weill–Brecht Requiem (before the chorale "Praise the Night!" returns with ironic gratitude toward a non-existent deity). The failed experiment of the city of Mahagonny — a place of rampant prostitution and alcohol consumption where you "can't help a dead man" — could easily stand for the Weimar Republic, despite its overt Americanisms. As fate would have it, the opera premiered just as the Nazis were rising to power. The performance at the Leipzig State Theater in 1930 reportedly ended with violent shouting and hissing, forcing the actors to step out of their parts. A "dignified gentleman with a lobster-red face," using his keys as a whistle, then "dispatched air streams of the highest vibration frequency," according to one audience member's report. At Mahagonny's second performance in Frankfurt, a group of a hundred Nazis stormed in at intermission.
With its sophisticated harmonic world, darkly comic allusions to Bach, Mozart and Mahler and subversive orchestration including banjo, zither and bandoneon, Mahagonny embodies a degree of modernist complexity that Weill would have to abandon. The conductor Wayne Marshall, who in June presided over the first production of Mahagonny in the history of the Berlin State Opera, says that although the music's effect on the ear is "one of normal tonality," its melodic and rhythmic language poses tremendous challenges to the performers. Gruber, who has cultivated a Weill tradition with the new music group Ensemble Modern, emphasizes that the music can only be rendered properly with tremendous precision. "The dotted rhythms have to be over-dotted," he offers as a small secret. "Only then does it sound dangerous. The Weimar Republic was a very dangerous place."
But it was this very atmosphere that bred one of the most fertile — if also violently polemic — periods in music history. It was the onset of radio and film, technologies that revolutionized every level of society, not unlike the internet today. The Nazis' propagandist exploitation of the new mediums aside, Weill, in his desire to make concert life relevant to a wider audience, believed that radio had been born just as traditional models for music consumption were coming to an end. He and composers such as Schrecker and Hindemith penned works explicitly for radio (including the Weill–Brecht Das Berliner Requiem, which ended Weill's tenure as a correspondent to the German radio station Der Deutsche Rundfunk).
Film, as a more technologically advanced medium, held even more potential. But Weill's dreams of creating a new genre of musical film, or "film–opera" never came to fruition. Although four of his stage works would be adapted for the screen by Hollywood, the process was not done on his terms. However, the ill-fated love story Down in the Valley, conceived for both radio and performance on college campuses, did make it to television with an NBC studio production in 1950, and went on to receive some 6,000 performances at universities and conservatories (most of them American) in less than a decade. As thoroughly American as the work appears, with its hoedown melodies and sappy romance, there are moments of unmistakable irony.
A man of the world. Kurt Weill in Salzburg, Austria in 1935.
Mit Frau und Hund. Kurt Weill with Lotte Lenya

Even as Weill adapted his musical style to New World taste, the social critique that defines his collaborations with Brecht remained a strong thread until the end. In Street Scene, written together with playwright Elmer Rice, the murder of an adulterous woman by her own husband reveals the stifling social oppression around a New York tenement. Lost in the Stars, Weill's last completed work for musical theater, exposes the pain of strained race relations through a story set in South Africa. In One Touch of Venus, a farcical spin on Tannhäuser, the goddess's estrangement evokes a hint of nostalgia for another world. Even if one might pine away at the thought of what Weill might have written had he been able to remain in Berlin — mingling with Alexander von Zemlinsky, Alban Berg and perhaps even Anton Webern — he remained committed to the same artistic principles in the United States.
"What if Mozart had followed [Mozart librettist Lorenzo] Da Ponte to New York?" muses Hinton, noting Weill's similar ability to blend the serious and the comic. Much like Mozart, Weill used humor, and the very act of writing music, to avoid despair. Beneath the uplifting force of tonality, a profound melancholy stirs beneath the surface. And much like Mozart, Weill both entertained and poked fun at his audience, whether on the Schiffbauerdamm or on Broadway. Perhaps we can now release Weill from second-tier status as a political symbol and embrace him as a first-rate composer whose rich and subtle oeuvre shows — as all great works do — everything that it means to be human.
…
WEILL AWAY THE SUMMER
A Requiem for the people, a sleeper musical, an ambitious Broadway opera, lesser-known works, and a Lotte Lenya essential; here's a Weill sampler to pore over.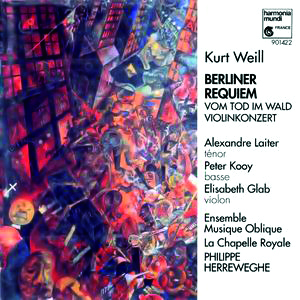 Kurt Weill
Berliner Requiem; Violin Concerto
Ensemble Musique Oblique
Chœur de la Chapelle Royale
Philippe Herreweghe, conductor
(Harmonia Mundi)
The resigned humor that emerges from within the sparsely orchestrated male choruses of the Berliner Requiem captures Weill's ambitions to reach as wide a group of listeners as possible through the medium of radio without compromising his music's seriousness. He wrote the Concerto for Violin and Wind Orchestra five years earlier, in 1924, when the golden twenties were still roaring. The work traveled from Paris to Dessau to Berlin but, following a ban by the Propaganda Ministry in 1935, would not be heard again in Germany until after the Second World War.
.​.......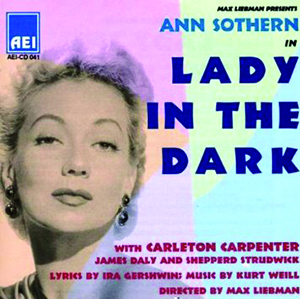 Lady in the Dark
Motion Picture Soundtrack
(Master Classics Records)
This musical was never revived on Broadway despite successful runs in New York and Boston after its 1941 premiere. In recent years, however, it has travelled to the small German theaters of Hanover and Mainz as Weill's country of birth rediscovers his post-exile works. If the story of a depressed, neurotic fashion magazine editor in psychoanalysis seems dated in a post-feminist age of online therapy and antidepressants, there is plenty of humor and dreamlike absurdity to unearth in both Weill's score and the lyrics and book by Ira Gershwin and Moss Hart. Don't miss the searing Old World musical quotes in the catalogue aria "Tchaikovsky."
​.​.......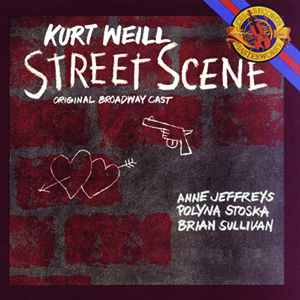 Kurt Weill
Street Scene
Original Broadway cast
(CBS Records Masterworks)
With Street Scene, Weill set out to write the first American opera for the Broadway stage. It remains one of his most ambitious and fascinating works, revealing the influence of everything from the Shakespearean operas of Verdi to Gershwin's Porgy and Bess, which he heard a few weeks after arriving in the U.S. The result is a stylistic "melting pot," in the analysis of Stephen Hinton. Carrying both the weight of verismo and the naturalness of modern theater, Weill captured the struggle of everyday life in New York when a brownstone community is torn apart by a husband's murder of his adulterous wife.

.​.......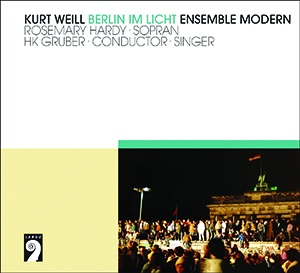 Berlin im Licht
Kurt Weill
Ensemble Modern
HK Gruber, conductor/singer
Rosemary Hardy, soprano
(Largo)
This collection of little-known songs and instrumental interludes, produced in cooperation with the Kurt Weill Festival in Dessau, the composer's town of birth, captures the sound culture Gruber has developed with the Ensemble Modern. Just as performance practice schools have generated what is deemed an authentic way of playing Bach or Mozart, Gruber has endeavored to recreate Weill's music with the right balance between harmony, rhythm and melody. Just listen to the swinging but incisive rhythms of the title track, sung by Gruber himself.
........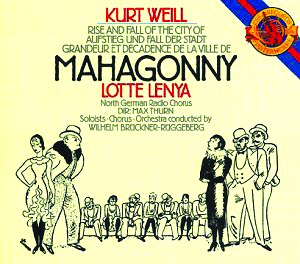 Kurt Weill
Rise and Fall of the City of Mahagonny
North German Radio Chorus
Wilhelm Brückner-Rüggeberg, conductor
Lotte Lenya, singer
(CBS Records Masterworks)
As with all performances featuring Weill's on-and-off wife Lotte Lenya, this album is not to be missed for its raw authenticity. A last-minute addition to the Mahagonny-Songspiel at its 1927 premiere, Lenya brings a street-wise savvy and ironic touch to the role of Jenny that more than compensate for the lack of pretty singing in the classical or Broadway sense. Weill, in his quest to create socially relevant musical theater, is at the height of his powers in numbers such as "Ein Taifun!", a tongue-in cheek Bach-style chorale, and the infectious but harmonically sophisticated "Alabama Song."
…



Respighi's set of variations is cast away for his more
'Roman' repertoire.
By David Hurwitz

Read More

The beautiful stoicism of Brahms's Nänie defies absolute categories.
By Thomas May

Read More

Prokofiev's Cinderella is much more than a charming retelling of the beloved fairy tale.
By Thomas May

Read More