C.P.E. Bach Primer
Top recordings from the most famous Bach of his time.
By Bradley Bambarger
This year marks the three hundredth anniversary of the birth of Carl Philipp Emanuel Bach, the fifth child and second surviving son of Johann Sebastian — and the most renowned member of the Bach family in the late eighteenth century. C.P.E. Bach, whose godfather was composer Georg Philipp Telemann, served as a chamber musician in the court of Frederick the Great in Berlin and later took over Telemann's position as music director in Hamburg, where he worked until his death in 1788. C.P.E.'s music — often wildly dynamic and emotive, bursting with surprise — pushed music forward from J.S. Bach's Baroque toward the Classical era, his compositions and keyboard method an inspiration for Haydn, Mozart, Beethoven, and myriad other successors.
C.P.E.'s music, with its volatility of tone and temper, still feels avant-garde today, so one can only imagine how it sounded to the listeners of his time. Eighteenth-century music historian Charles Burney noted that some contemporaneous critics found C.P.E.'s works to be overly "fantastical" and even "far-fetched" in their pursuit of the empfindsamer Stil (the "expressive style," which was much more tough-minded and unpredictable than the "galant" manner then in vogue). Burney begged to differ: "His flights are not the wild ravings of ignorance or madness, but the effusions of cultivated genius. His pieces . . . will be found, upon a close examination, to be so rich in invention, taste and learning, that . . . each line of them would furnish more new ideas than can be discovered in a whole page of many other compositions."
Despite such testimony, C.P.E.'s scores suffered disregard as the decades wore on, his output damned with faint praise as the work of a transitional figure — even as the previously neglected music of his father rose to Olympian status. Ever so gradually, though, more recordings of C.P.E.'s music have appeared, including several excellent discs for this anniversary year. Among the key releases are two volumes of keyboard works played on a modern grand piano by the Englishman Danny Driver. Musing over the composer's move beyond the Baroque, Driver says: "He uses elements of the 'old style' in some works — for instance, the fugal writing at the end of Heilig ist Gott for double choir. The free fantasia — which features both as a stand-alone genre in C.P.E.'s output, as well as in 'snippets' within such works as the G minor Sonata H47 — is also inherited from his father's generation."
What's new in C.P.E. Bach, though, is "that Empfindsamkeit aspect — the heightened dramatic and emotional rhetoric," Driver says. "This manifests itself in sudden harmonic changes, questioning silences, melodic fragmentation, abrupt rhythmic displacements. The cornerstone of C.P.E.'s compositional influence was his pioneering representation of starkly contrasting characters and emotions within a single movement of music, something we take for granted in Classical–era works."
In addition to being a great keyboardist and improviser, C.P.E. wrote a treatise, An Essay on the True Art of Playing Keyboard Instrument, that's still in print more than two hundred fifty years after its first appearance. C.P.E.'s playing, compositions and writings led Mozart to comment on his pervasive influence: "He is the father, we are the children. Those of us who know anything at all learned it from him; anyone who does not admit this is a scoundrel."
The obituary for C.P.E. Bach in the Hamburger Tagespresse memorialized his music as "ever new, inexhaustible, great and powerful" — a judgment affirmed for us by these recordings more than three centuries later.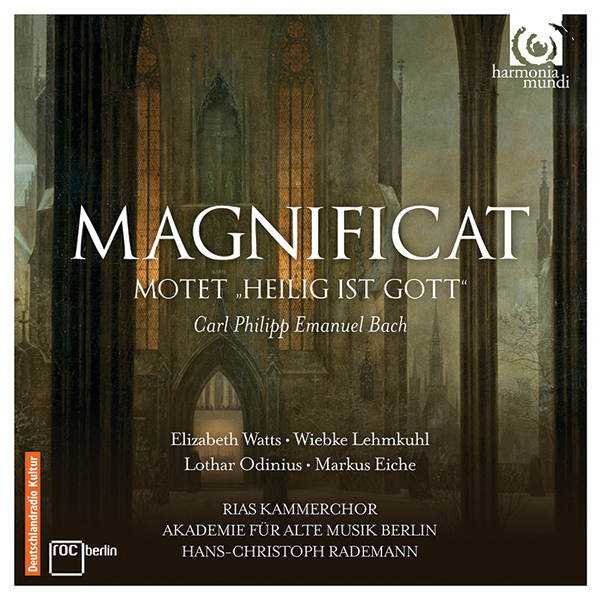 C.P.E. Bach
Magnificat, Heilig ist Gott
Elizabeth Watts, soprano
Wiebke Lehmkuhl, mezzo-soprano
Lothar Odinius, tenor Markus Eiche, bass
RIAS Kammerchor Akademie für Alte MusikBerlin
Hans-Christoph Rademann, conductor
(Harmonia Mundi, 2014)
About his motet Heilig ist Gott ("Holy Is God") for double choir and orchestra, C.P.E. wrote: "It will be my swan song of this kind, and will serve to ensure that I shall not soon be forgotten after my death." Though just eight minutes long, this work has a striking, indelible beauty, an impression that could scarcely be better made than by Berlin's RIAS Chamber Choir and the period-instrument Akademie für Alte Musik Berlin. The album replicates a 1786 charity concert given by the composer in Hamburg for a society of doctors who served the disadvantaged for free. Along with Heilig ist Gott, the program includes a whirling Symphony in D Major for strings plus winds (Wq. 183/1) and the Magnificat for chorus, soloists and orchestra that C.P.E. wrote nearly forty years prior as an audition piece when he wanted to succeed his father as Cantor in Leipzig (to no avail). It's jubilant music, both looking back at Johann Sebastian's B-minor Mass and ahead to the sacred masterpieces of Vienna.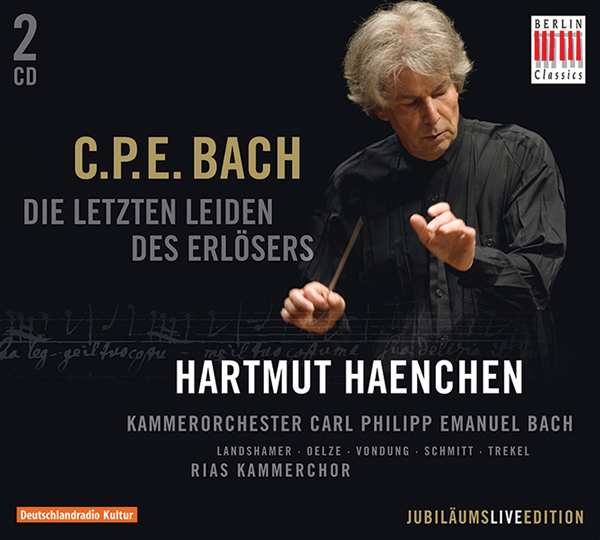 C.P.E. Bach
Die letzen Leiden des Erlösers
Christina Landshamer, soprano
Christiane Oelze, soprano Anke Vondung,
mezzo-soprano Maximilian Schmitt, tenor Roman Trekel, baritone RIAS Kammerchor; Kammerorchester Carl
Philipp Emanuel Bach Hartmut Haenchen, conductor
(Berlin Classics, 2014)
Hartmut Haenchen has been devoted to Carl Philipp Emanuel Bach, even founding a chamber orchestra in the composer's name some forty-five years ago in East Germany. One of the orchestra's final presentations — the ensemble having disbanded upon C.P.E.'s three hundredth birthday, after more than fifty recordings — is perhaps the biggest production for the tricentennial. This double-disc set documents a starry Berlin concert of C.P.E. Bach's ninety-five-minute Passion oratorio, Die letzen Leiden des Erlösers ("The Last Sufferings of the Savior"). The composer premiered the work in 1770, presenting it in a secular space because church authorities frowned upon female soloists.
The Last Sufferings of the Savior offers stately beauty in the recitatives and energized melodiousness in arias and choral passages, benefiting here from hypnotic control in both the vocal and orchestral performances.
C.P.E. Bach
Keyboard Sonatas, Vols. 1 and 2
Danny Driver, piano
(Hyperion, 2010–12)
Danny Driver's two beautifully produced single-disc volumes of C.P.E. Bach include pieces that range from 1740 to 1787, encompassing not only nine three-movement sonatas but also the wonderful Fantasie in F-sharp minor and the Rondo in D minor. Driver's playing is scintillating and, although he performs on a Steinway, his style is informed by period techniques.
"I feel that C.P.E.'s music generally works extremely well on the modern piano, which has of course a very wide dynamic range, and a real ability to 'sing' lyrically — something I aspire to in much other music that I play," Driver explains. "But when it comes to composers such as C.P.E. Bach, I do tend to approach the modern piano with the feel and technique required for period pianos in mind. I found that by practicing C.P.E's music over the course of a year or so on an original, London-built 1789 square piano, I added significant control, depth and timbral possibility to my playing of similar music on the modern piano."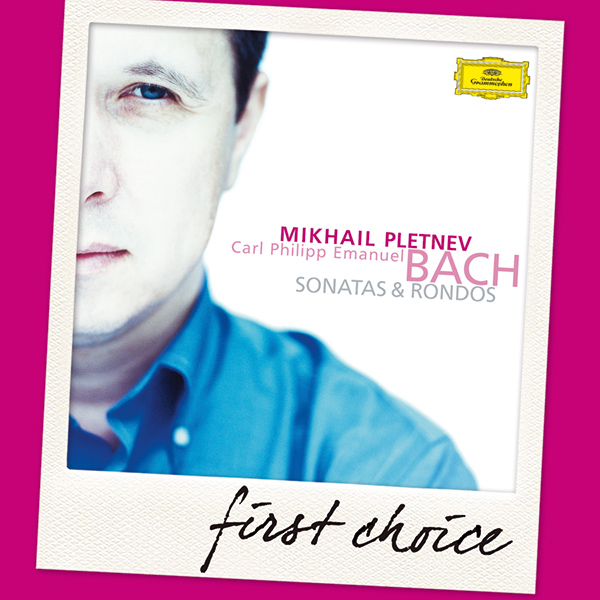 C.P.E. Bach
Sonatas & Rondos
Mikhail Pletnev, piano
(Deutsche Grammophon, 2001)
This was a game-changer for mainstream recordings of C.P.E. Bach's music — not made by a period specialist but by a pianist trained in the grand Russian tradition. Mikhail Pletnev's sheer virtuosity, beauty of tone and sense of drama make this music's mood swings resonate with Sturm und Drang force. C.P.E. Bach once wrote: "Since a musician cannot move others unless he himself is moved, he must of necessity feel all the affects that he hopes to arouse in his listeners." Pletnev certainly seems as attuned to the timeless emotional dynamism of this music. Not surprisingly, Danny Driver says that this album is "one of the things that turned me on to C.P.E. Bach as a composer and to the possibility of performing him on the modern piano." If you were to get just one C.P.E. Bach recording — though you should hardly limit yourself — this should be it.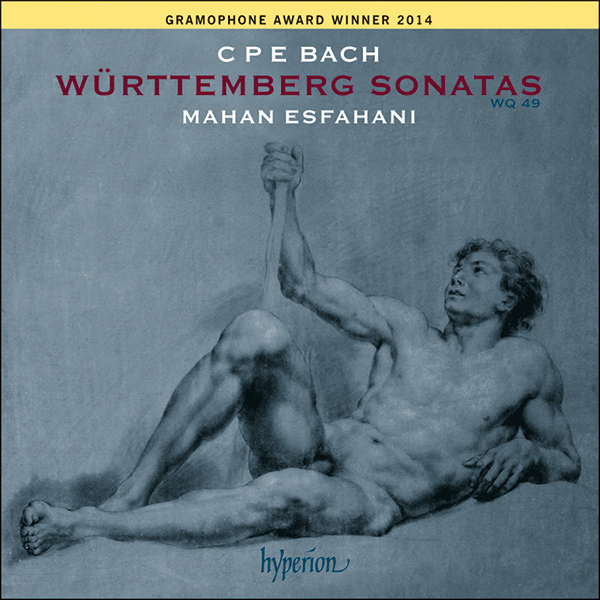 C.P.E. Bach "Württemberg" Sonatas
Mahan Esfahani, harpsichord
(Hyperion, 2014)
Hungarian keyboardist Miklós Spányi has been recording an epic complete edition for BIS of C.P.E. Bach's works on period harpsichord, fortepiano and clavichord. But it's this standalone album by Iranian-American harpsichordist Mahan Esfahani — who is based in the U.K., with Danny Driver one of his local fans — that may introduce many listeners to the composer's solo works on a period keyboard. This set of the "Württemberg" Sonatas of 1744 (dedicated to a former student, the Duke of Württemberg), has a piquant quality; the timbres of Esfahani's harpsichord range from tangy to feathery, as he responds to the music's rhythmic vibrancy and its juxtaposition of humor and drama, in which one can hear the keen influence on Haydn. (For Glenn Gould fans, the pianist recorded the "Württemberg" Sonata in A minor to lovely effect.)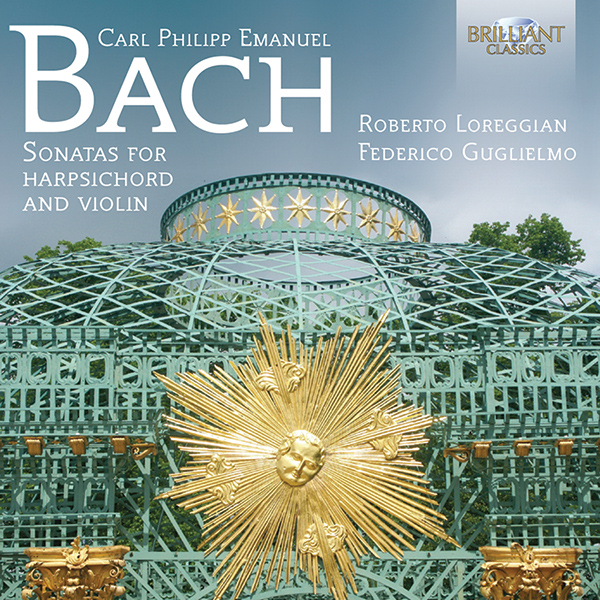 C.P.E. Bach Sonatas for Keyboard and Violin
Roberto Loreggian, harpsichord
Federico Guglielmo, violin
(Brilliant Classics, 2014)
Writing about Johann Sebastian's sonatas for keyboard and violin, C.P.E. said: "They are among the finest works written by my dear late father…. They give me great pleasure, despite being more than fifty years old. There are certain Adagios in them whose cantabile qualities are unsurpassed to this day." C.P.E. must have had those qualities in mind when he composed his own engagingly vivacious sonatas for keyboard and violin. This disc by harpsichordist Roberto Loreggian and violinist Federico Guglielmo, two Italians with outstanding early-music pedigrees, showcases six of these works. While the keyboard may come first in the title, the violin parts sing beguilingly — foreshadowing Mozart's compositions in this genre, in particular.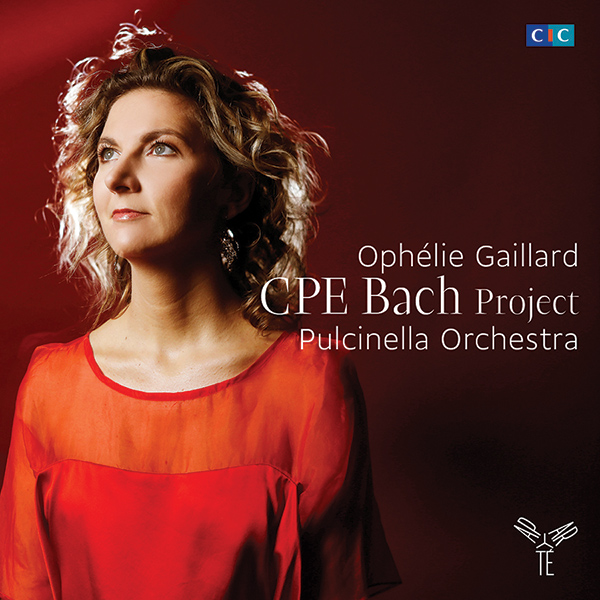 C.P.E. Bach
Cello Concertos, Symphonies
Ophélie Galliard, cello/direction
Pulcinella Orchestra
(Aparté, 2014)
This is perhaps the most irresistible recording released for this C.P.E. Bach year, featuring orchestral works played with rhythmic zip and textural richness, and including the composer's most compelling works among his concerto output (which came to number nearly seventy pieces, rivaling Telemann for fecundity). French cellist Ophélie Galliard is a sharp, exuberant performer who has a real sense of the venturesome, playful spirit of this music. The Pulcinella Orchestra sounds fantastic under the microphones, too. Along with the Cello Concertos in A minor (Wq. 170) and A Major (Wq. 172) and a Symphony in B minor (Wq. 182), the disc includes a bittersweet gem of chamber music, the Trio Sonata in C minor for two violins and continuo (Wq. 161). Fans of fizzing, sighing, moving music from Vivaldi to Mozart will love this disc.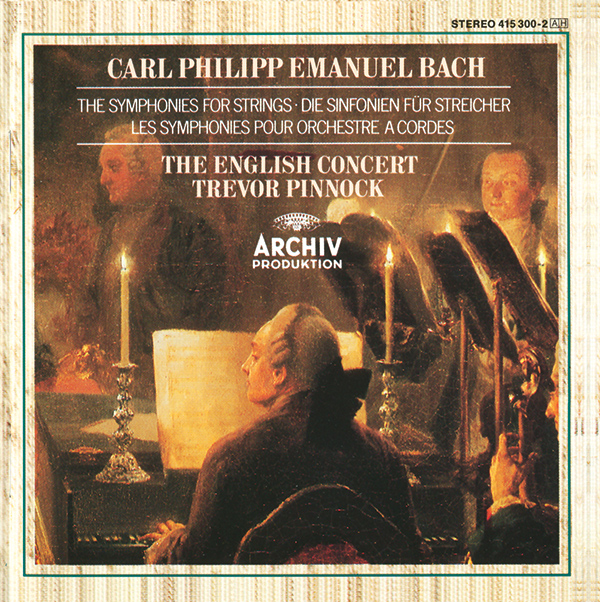 C.P.E. Bach
Symphonies for Strings
The English Concert
Trevor Pinnock, harpsichord/director
(Archiv/DG, 1980/2004)
This is a classic of the C.P.E. Bach discography, the go-to introduction to the composer's music for many years — and still an exciting must-have. Trevor Pinnock leads the strings of the period-instrument English Concert from the harpsichord in the six Symphonies for Strings (Wq. 182), which were commissioned by Baron Gottfried van Swieten, a booster of contemporary music who would go on to be a key patron for Haydn, Mozart and the young Beethoven. Van Swieten's only stipulation to C.P.E. for the commission was that he should "let himself go, without taking heed of the difficulties that must necessarily arise by their execution." The composer obliged him with symphonies brimming with willful changes of key, asymmetrical phrases, and startling shifts in mood.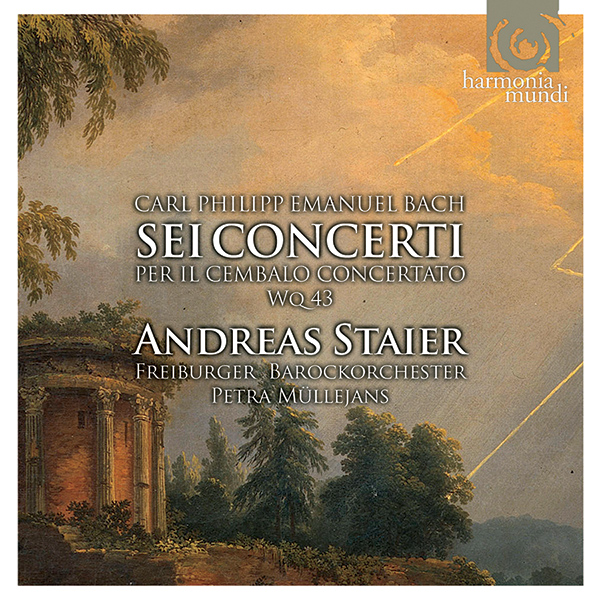 C.P.E. Bach
Six Concertos for Harpsichord, Wq. 43
Andreas Staier, harpsichord
Freiburg Baroque Orchestra
Petra Müllejans, conductor
(Harmonia Mundi, 2011)
This prize-winning double-disc set presents period keyboard virtuoso Andreas Staier and the ever-vibrant Freiburg Baroque Orchestra in the six harpsichord concertos that C.P.E. published in Hamburg in 1772. In his liner notes to the album, Staier suggests that the music looks forward not only to Beethoven but also to Schubert and even Liszt, underscoring C.P.E.'s stature as a futurist. There is a pioneering Virgin/EMI set of these works by harpsichordist Bob van Asperen and a small Amsterdam ensemble that has mellifluous charms of its own, though the Freiburg Baroque Orchestra's playing boasts a more red-blooded energy to match the passionate mastery of Staier. Harmonia Mundi's booklet is much more generous, besides.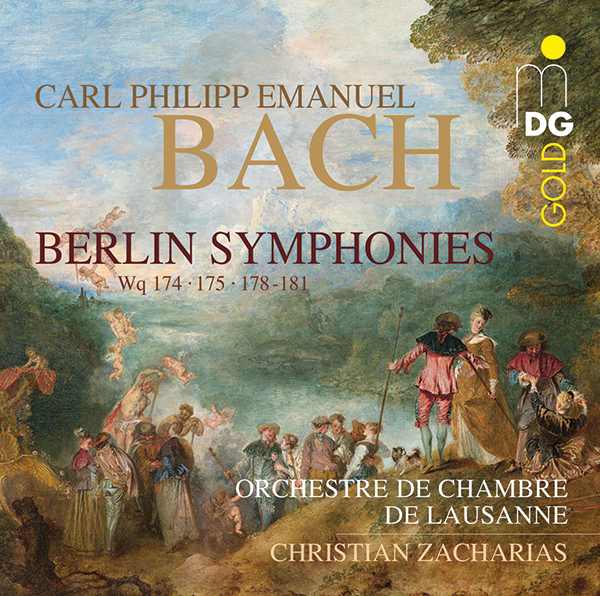 C.P.E. Bach:
"Berlin Symphonies"
Chamber Orchestra of Lausanne
Christian Zacharias, conductor
(MDG, 2014)
Some of the most widely disseminated of C.P.E.'s works in his day were the "Berlin Symphonies." Composer Johann Adolf Hasse gave Charles Burney the tip that C.P.E.'s Symphony in E minor (Wq. 177) was "the finest" symphonic work he had ever heard. Six of these works, including the one Hasse admired, are included in their final orchestrations with winds and horns on this audiophile disc from Switzerland's Chamber Orchestra of Laussane under Christian Zacharias (a star pianist who has developed into a subtly artful conductor). Though less astonishing than his later Hamburg symphonies for strings, these works are never less than zesty and tuneful, with harpsichord part of the alluring orchestral fabric.

Pianist András Schiff revisits The Well-Tempered Clavier and other totems of J.S. Bach — on stage and on record.
By Bradley Bambarger

Read More

Everything you always wanted to know about Baroque concertos (but were afraid to ask)
By David Hurwitz

Read More

Celebrating Haydn
By David Hurwitz

Read More